Effort enforcing bag ban 'obscene': Seselja
Inspectors from the Office of Regulatory Services spend almost 40 per cent of their time enforcing the territory's ban on plastic bags, an Assembly committee hearing has heard.
Canberra Liberals MLA Zed Seselja said on Tuesday that the amount of time spent enforcing the ban was "obscene" and "disproportionate to the threat" posed by plastic bags.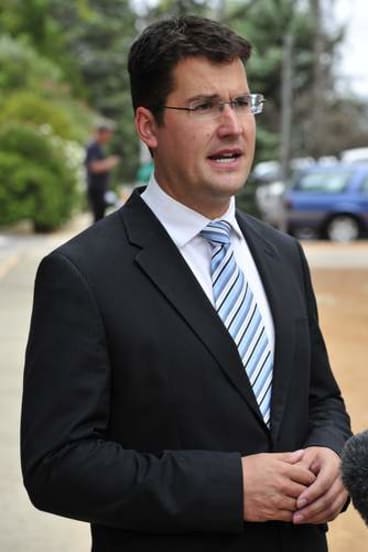 The Assembly inquiry into annual reports heard that ORS inspectors had made 2200 visits to retailers in 2011-12 to ensure compliance with the ban.
ORS executive director Greg Phillips said the visits accounted for slightly fewer than 40 per cent of 5000 inspections by ORS officials.
"That's a pretty significant amount of your time I would have thought," Mr Seselja told the hearing.
"It does seem disproportionate to the threat.
''Alert but not alarmed, I think it is, about plastic bags."
Mr Seselja told The Canberra Times: "It is obscene that government inspectors are spending 40 per cent of their time chasing shop keepers over the use of plastic bags."
"There should be much more important priorities for officials than trying to hit businesses with $27,500 fines for a ban that is proven to have little benefit. "
But Attorney-General Simon Corbell said inspectors also used the visits to check retailers were complying with other pieces of territory legislation, such as liquor laws.
Mr Corbell told the Assembly hearing "it was difficult to break down what percentage of the inspectors' time was spent on plastic bags" versus other laws.
The Canberra Liberals went to the territory election last October promising to reintroduce free plastic shopping bags if they won government.
An interim review of the ban, released by the ACT government in January, found 70 per cent of Canberra households wanted the ban to continue.
The survey of 600 households showed that 58 per cent supported the ban and 84 per cent took reusable bags to the supermarket.
"I know you don't agree with the ban [Mr Seselja] but the vast majority of Canberrans disagree with you," Mr Corbell told the hearing.
"According to your survey," Mr Seselja said.
Morning & Afternoon Newsletter
Delivered Mon–Fri.