Electricity in the tent of mirrors
STEP inside Mademoiselle Boo's tent and there is a zap of sexual electricity.
''Canberra's a calm place and when there's an air of calmness then there's also an underbelly, so they might want to seize the night and take part in the excitement,'' said the long-legged Edinburgh ringmaster.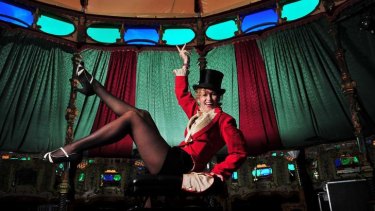 Dressed in a provocative top hat, red coat and black stockings, she is a member of a troupe that travels the world with the Famous Spiegeltent.
The tent erected in the Senate Rose Garden near Old Parliament House is one of only eight original spiegeltents in the world.
Ornate furniture, often depicting naked, promiscuous subjects, decorate the insides of the 90-year-old tent in Canberra. Then there are the mirrors.
''You can see someone you fancy in a mirror and they can't see you. Many people have fallen in love in spiegeltents. People have been conceived in spiegeltents.''
The tent will host dozens of shows - comics, acrobats and musicians - until March 24, as part of the Enlighten festival.
The entertainment at the Famous Spiegel Garden is being produced by Canberra-raised man David Bates, now a a 53-year-old French resident who bought his own spiegeltent more than 15 years ago.
He is one of five spiegeltent owners worldwide, and began his love affair playing piano in a jazz band in one of them.
The tent was owned by a Scottish brewery but he offered to rent it and produce shows, hoping not to lose much money at the same time.
The venture succeeded and he bought the tent. Estimated to be worth $500,000 now in materials, but potentially valued at much more because of the business it drives, the tent Mr Bates bought is in Melbourne at the moment so the theatrical director rented another antique tent for Canberra's Enlighten festival.
Entertainment put on by Mr Bates at the Rose Garden includes famous names such as Parisienne chanteuse Caroline Nin, Irish folk singer Mary Coughlan and world-renowned cabaret artist Robyn Archer, as well as jaw-dropping circus and burlesque from the five-star sellout show Briefs. Bands include The Gadflys, Perch Creek Family Band, Mikelangelo and The Black Sea Gentlemen, Flap! and The Naughty Rhythms.
The Rose Garden will also host the Centenary Latin Dance Party on Tuesday, March 12.