The Australian Federal Police are preparing for a major shake-up of their elite specialist response units, in a move that will see the ACT get better access to the agency's riot squad, bomb response officers, K9 units and police negotiators.
The restructuring will see the ACT Policing's elite tactical unit, Specialist Response and Security, merged with the federal Operational Response Group.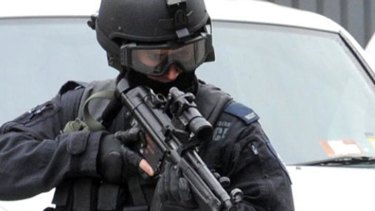 The reforms will create the largest specialist police team of its kind in Australia, to be called the Specialist Response Group, which will be based almost entirely in Canberra.
The ACT's elite SRS officers will be rotated through other AFP specialist units, and will be sent on the AFP's overseas missions to places like the Solomon Islands, East Timor and Christmas Island.
ACT Policing has been quick to assure Canberrans the changes will not weaken local tactical response capabilities, and dedicated teams will be tasked to the territory for three month long rotations.
Superintendent Michael Chew said the changes would allow better access to the AFP's public order management teams, K9 units, bomb response officers, negotiators and a dedicated crew of air support officers.
''There's some guarantees built in there about service delivery to the ACT being a very big part of what this group would do,'' Superintendent Chew said. ''So the service delivery to the ACT won't change, in fact, it will probably be enhanced because we're going to have more access to resources,'' he said.
The changes are partly designed to glean efficiencies from the AFP, by reducing duplication between AFP and ACT Policing specialist units.
Superintendent Rod Kruger said the majority of the AFP's specialised units would now be stationed in Canberra.
''It also ties into, on the national side of the house, a centralisation of personnel from across three locations, Brisbane, Canberra and Melbourne,'' Superintendent Kruger said.
''It's all Canberra-based now, so the specialist cell is here,'' he said.
Superintendent Chew said that the locally based SRS members had been generally supportive of the changes, despite the compulsory rotations into overseas missions.
He said the new group would give SRS members better career paths, and would help them gain skills in other specialist areas of the AFP.
''I think from the ground up it's been pretty well accepted,'' he said.
The restructuring had been in planning for over a year, and the new group would be activated as of July.