Elvis Presley photos chronicle a legend in the making
If anyone can claim to be an Elvis Presley aficionado, it must be Warren Perry.
A native, like Presley, of Memphis, Tennessee, he grew up with an appreciation of the local music scene and its place in American popular culture.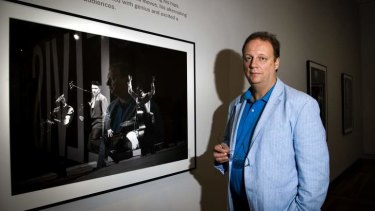 But even he was surprised when he first saw the collection of images of 21-year-old Presley that now form a major exhibition showing at the National Portrait Gallery.
Mr Perry, a writer and researcher from the Smithsonian National Portrait Gallery in Washington, is in Canberra this month to take in the Australian version of the touring show.
The exhibition comprises images captured by photographer Alfred Wertheimer in the 1950s, when Presley was on the very cusp of stardom.
Wertheimer had been invited to take publicity shots for the singer's record company, RCA Victor, of the then relatively unknown Presley in 1956.
What he saw convinced him to stick around and take more photos, culminating in a fascinating documentation of a young man on the verge of mega-stardom.
It wasn't until well after the singer's death in 1977 that Wertheimer had the opportunity to show the 2500 black and white images he had captured of Presley on tour, at home, with his family, girlfriend and finally, surrounded by fans.
Mr Perry said when he first saw the collection, he was stunned.
''I saw the contact sheets and I couldn't believe there was such a body of work with which I was unfamiliar,'' he said.
''I'm not trying to be vain about it, but coming out of Memphis, Tennessee, you see a lot of pictures of Elvis, and I had never seen probably 95 per cent of the work that had been shot.''
He and his colleagues at the gallery in Washington worked with Wertheimer to put together the show, beginning in 2008.
It opened in Los Angeles in January 2010, on what would have been Presley's 75th birthday.
Mr Wertheimer said the appeal of the show extended far beyond the mystique of the singer himself - it chronicled an age-old adventure story of rags to riches, a theme that will be the topic of his lecture in Canberra next Wednesday.
''It's about how there's almost this mythic quality to this Elvis journey,'' he said.
''Even though we know Elvis wasn't Superman, he wasn't Batman, or any kind of a great hero like that, there's this pattern, this separation from your home, from all things that are familiar, this initiation to things that are outside of your world, and in this return to this world bringing with you a boon, is one of the key components of this journey.''
The evocative black and white images of the fresh-faced 21-year-old are also a refreshingly wholesome take on a man who would go on to succumb to the effects of stardom, cultivating a lifestyle that would eventually kill him young.
''The worst things he's putting into his body in any of these photos is a glass of milk, so you see that and you know there's that other thing at the end of 21 years,'' he says.
''There's Elvis succumbing to the rock'n'roll generation's habits that are the products of the generation he created, which is horrible. The sponsor of this movement succumbs to the sex, drugs and rock'n'roll itself. Like I said, it was a hell of a ride.''
Warren Perry, writer and researcher at the National Portrait Gallery Smithsonian Institution, Washington, and co-curator of Elvis at 21 will be speaking at the National Portrait Gallery in Canberra on Wednesday January 29 at 12.30pm.

Elvis at 21 runs until March 10.
Sally Pryor is a reporter at The Canberra Times.