Emergency Services Agency slams firefighter shortage claims amid union stoush
The Emergency Services Agency has hit back at claims it is leaving Canberra "dangerously vulnerable" because of a shortage of firefighters, rubbishing the suggestion and accusing the ACT's firefighting union of scaremongering.
ESA Commissioner Dominic Lane labelled claims made by ACT United Firefighters Union branch secretary Greg McConville "outrageous", after Mr McConville accused the ESA of breaching the Emergencies Act 2004 on Sunday, when temperatures in the capital topped 31 degrees.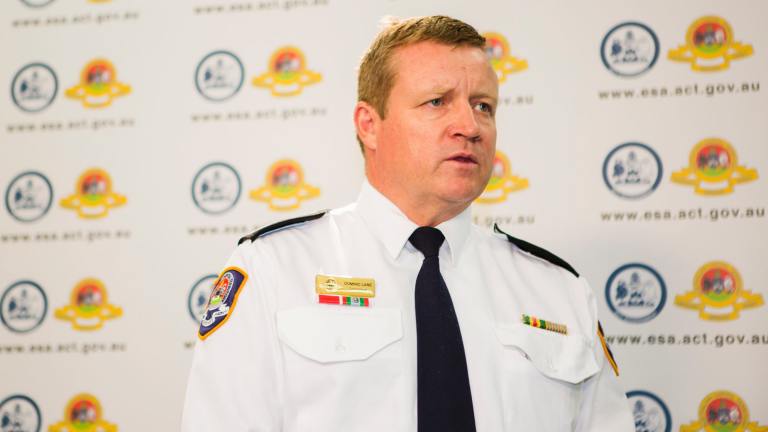 Making the allegations, Mr McConville said the ESA failed to make available four additional water tanks in line with its legal obligations on Sunday, a day with a severe fire danger rating and a total fire ban in place.
Mr McConville claimed this was the result of ACT Fire and Rescue, which is overseen by the ESA, having only 304 firefighters ready for duty despite an available budget for 344.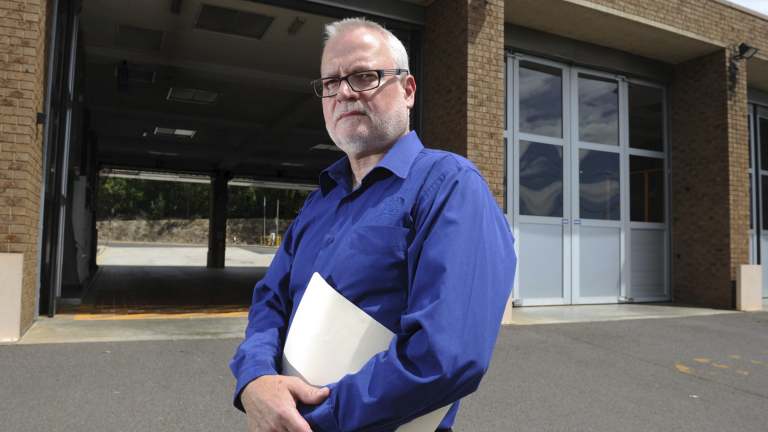 "The ESA's incompetence would see fire trucks parked in garages without firefighters to operate them while Canberra burns. It's completely unacceptable," he said.
But Commissioner Lane said this was "a falsification", and that there were actually 347 firefighters available.
"Well, first of all, Canberra wasn't burning, so I find that statement outrageous," he said.
"Those additional four tankers [required under the Emergency Services Act] were at stations and there were firefighters there to crew them, but they weren't asked to go out.
"We also had firefighters willing to come back on overtime if needed, so the union's claim is again a falsification."
Mr McConville also highlighted the amount of ACT resources sent to tackle a prescribed burn that jumped containment lines in Namadgi National Park on Sunday left the rest of the territory dangerously exposed.
Six helicopters battled the blaze at its peak, with 10 tankers, three fire dozers, three water tankers, a fuel truck and a grader from the ACT also on the scene.
It was brought back under control on Monday, and remained under 200 hectares in size throughout.
"You've taken a major component out of Canberra's fire protection. And it's not just Canberra, it's the region," Mr McConville said, pointing to the blaze that destroyed 69 homes in the NSW seaside town of Tathra on Sunday.
"We would like to be good neighbours and help out our neighbours at Tathra.
"We couldn't even look after our own backyard if something happened last Sunday."
Commissioner Lane scoffed at those comments, saying it was another case of the union scaremongering.
"It's very clear to me that the incident management team that we had in place had enough resources to not only fight the Namadgi National Park fire, but to also be prepared for anything else," he said.
Commissioner Lane also dismissed suggestions that the ESA was repeating mistakes that contributed to the deadly 2003 Canberra fires, which left four people dead, 490 others injured and 500 homes destroyed.
Mr McConville claimed the lessons learned from that blaze had been lost and that a fast-moving fire moving in from the west could be catastrophic, repeating the union's long-standing calls for changes to control over the territory's bushfire abatement zones, which are pockets of rural land adjacent to built-up areas of Canberra.
The union wanted ACT Fire and Rescue to take primary command and control over fires in such areas when they were placing built-up areas at risk.
"It's a human decision [on who takes command]. That reliance on the human decision has already been found wanting," Mr McConville said.
"[After the 2003 fires], the coroner found it wanting and the McLeod inquiry found it wanting.
"There needs to be an arrangement. Those arrangements were put in place. They've now been removed.
"The very same risk that existed in 2003, in that sense, exists now."
But Commissioner Lane said the boundaries were very clear, and that in cases where a fire looked like crossing the boundary between a rural and urban area, the ESA would be prepared well in advance, with an incident management team taking charge.
"We wouldn't wait for the fire to get to an urban area. We would be prepared for it," he said.
Blake Foden is a reporter at the Sunday Canberra Times. He has worked as a journalist in Australia, New Zealand and the UK.