Empire Building Group site shut down in Wright
A building site in Wright operated by Empire Building Group has been shut down over a raft of safety concerns.
ACT Work Safety Commissioner Mark McCabe said inspectors had "uncovered a litany of failings'' and this was not the first time the company had been of concern to WorkSafe.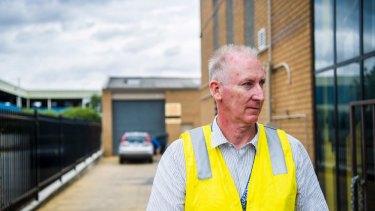 Empire Building Group is constructing a housing estate, Panorama at Wright, featuring 180 townhouses and apartments.
Meanwhile, the Construction, Forestry, Energy and Mining Union is preparing to lodge a case in the Federal Magistrate's Court against the company after it refused entry to union secretary Dean Hall, who attended the site on Monday.
Mr Hall said he had been refused lawful access to the site, after members raised safety concerns. Among these concerns was a lack of power for the lunch sheds and no sewerage for the toilets.
"This company has displayed the most fundamental failure to provide even the most basic health and safety requirements," Mr Hall said. "It has an atrocious and documented history with Work Safety, and we need to ask at what point do these people lose the right to keep their building licence?"
Mr Hall said the ACT Government was under pressure to formally inquire into building standards in the ACT because of a history of poor workmanship leading to substandard building outcomes.
Mr McCabe said WorkSafe was alerted to concerns regarding safety at the Wright site late last week, but the company closed the site before WorkSafe could attend.
When Mr Hall and a WorkSafe inspector attended the site again on Monday, the inspector issued a Prohibition Notice closing the site "due to a failure by the builder to ensure the provision and maintenance of a work environment without risks to health and safety".
A primary concern was the failure of the company to provide proper oversight of the work being undertaken.
Other issues requiring formal notices included concerns regarding appropriate safeguards of mobile plant and equipment, benching of excavations, appropriate facilities and amenities, induction of workers, safe access to the site, signage and safeguards when near high voltage electrical substations on site.
Mr McCabe said given Empire Building Group's history and record with WorkSafe, he was "considering whether stronger enforcement action may be required''.
Empire Building Group director Tom Simunic said he did not wish to comment on the matter.