Enlighten festival: Come paint the town red and blue and ...
Fresh - well, just a little exhausted - from his role as director of projection at the opening ceremony of the Sochi Winter Olympic Games, Peter Milne is now turning his attention to the ever-popular Enlighten festival in Canberra.
As projection designer and technical director for Sydney company The Electric Canvas, Mr Milne leads a team that transforms Canberra's cultural institutions into illuminated marvels via large-scale projections throughout Enlighten.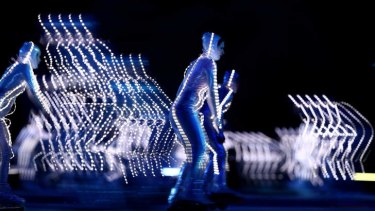 And expect more scope for public interaction - including being able to ''paint'' the Questacon building - at this year's Enlighten, which runs from February 28 to March 8.
Mr Milne was working up to 15 hours a day in the countdown to the opening ceremony in Sochi, where basically anything that needed to be projected in the Fisht Olympic Stadium came down to him.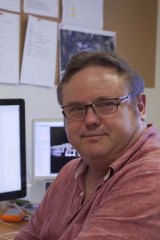 ''It was hard work. I haven't had a day off for five weeks. But that's how these things go,'' he said.
''My responsibility was to direct the technical and creative teams and to muster the various Russian creative organisations that were producing content for the field-of-play projections. That was an interesting experience because there were a lot of organisations involved and they were getting good direction from the show creatives, but it was my job to filter that and make sure it was going to be technically and theatrically successful.''
It's nothing new for Mr Milne, who has also worked on the 2000 Sydney Olympic Games, the 2006 Melbourne Commonwealth Games, various Singapore National Day spectaculars and the East Asian Games.
For Enlighten this year, he has been asked to take famous Australian artworks and adapt them to the ''very unique world of architectural projection''. ''With that comes a great deal of responsibility,'' he said.
''The temptation just to use these buildings as a screen is quite great for any designer or artist. However, that's not what we're about. We're about celebrating the architecture. So, how do you cut up somebody else's piece of art and apply it in an architectural sense in a way that is both respectful to the artist and the building? So, it's an interesting challenge for us.''
And Canberra provided an almost unique environment in which to do the work. ''A lot of the buildings we work on around the country are in populated areas with high traffic and therefore there's a lot of ambient light,'' he said.
''Very seldom are we faced with the very wonderful situation where we have all these iconic buildings and monuments of national importance that are not only in the same precinct but in a fairly isolated areas, away from the urban lighting clutter and the neon lights of street lights. So, it gives us a wonderful opportunity to fully celebrate the architecture of the buildings without the interference of street lights and trucks and cars passing by.''
New exploits this year include the Circle of Light in John Dunmore Lang Place between Questacon and National Portrait Gallery. Twelve robotic searchlights will be arranged in a circle, beaming into the sky, and audience members will be able to play with its colour and movement by manipulating the controls.
The public will also be able to use a touchscreen to place images, animations and textures on the Questacon building along various themes, painting the structure as they go.
''They get about a minute and a half and their work is complete, and then it's the next person's turn,'' Mr Milne said.
The National Gallery of Australia will have artefacts from its Gold and the Incas: Lost Worlds of Peru projected on its walls.
Projections on Parliament House will feature artwork from its collection such as portraits of past prime ministers, and textures from the building such as the marquetry in the main foyer.
■ For more details, visit: enlightencanberra.com.au
Megan Doherty is a reporter for The Canberra Times