Enlighten in Canberra for the 5th time
This year's celebration of culture and creativity has something for every taste, writes Ron Cerabona.
Enlighten 2015. The Parliamentary Triangle. February 27-March 7, 2015. Website: enlightencanberra.com.
The creative producer of Enlighten 2015, Nicole Warren, says this year's festival was inspired by the elements - earth, wind, fire and water - as well as by the fact that 2015 is the International Year of Light.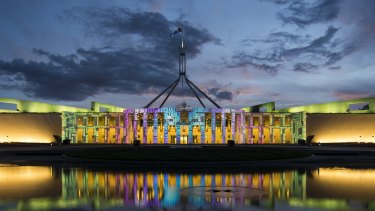 "Mixing that together with contemporary and innovative performances is really the key thing for Enlighten."
It's the fifth year of Enlighten and Warren's first as artistic director. Now based in Melbourne, she was formerly living in Western Australia and was creative producer of the award-winning Joondalup Festival.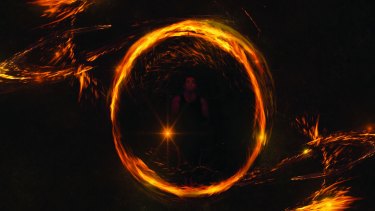 Many of the institutions in the Parliamentary Triangle will be open after hours with special events as well as their regular exhibitions open to the public. And there will be plenty outside to see, do and experience including Circle of Light, returning most aptly in the International Year of Light, with searchlights creating an interactive sculpture in the night sky at Parliament House.
There will be about 65 sessions and nearly 90 artists - almost half from outside Canberra - presenting acts in the festival.
British performers Joe Bone and Ben Roe will be performing The Bane Trilogy, a three-episode film noir-style comedy stage show. Bone plays Bruce Bane, a hit man who has suddenly become the target, as well as many other characters, shifting rapidly from one to another, while Roe plays a live score to accompany the proceedings. Two episodes will be performed during Enlighten and the third during the Canberra Comedy Festival.
"This is related to earth - Bane takes you down the alleys and mean streets," Warren says. Water and light are represented by another British duo, artists Claudio Benghi and Gloria Ronchi, who work under the names Aether and Hermera, the ancient Greek god and goddess of light.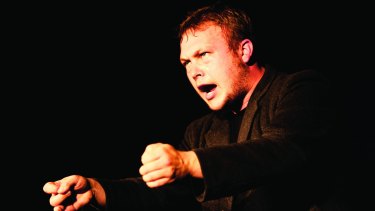 "They'll be creating an installation called Voyage on Lake Burley Griffin. They preparing a fleet of 300 paper-style origami boats that will be illuminated every evening during the 10 days of Enlighten."
Audiences can engage with the exhibition via a mobile phone app. It's on from 6.30pm nightly at Commonwealth Place.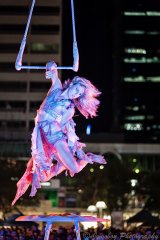 In Trade Winds by Brisbane group Polytoxic, performers will dance on water in The Reflection Pond as they are illuminated by animated projections. It's on Friday and Saturday night, February 27 and 28, at 8.30 and 9.45pm.
Voala is an aerial troupe from Spain performing for the first time in Australia during Enlighten on March 7 at John Dunmore Lang Place at 8.30pm.
"They go up to 40 metres in the air," Warren says.
Also up in the air is Elements, which will be performed on Friday and Saturday, is performed by Natural Wings, a duo from Western Australia. "They do choreography in the air with trapezes."
The two women recently won the WA Circus Award at Fringe World. They had to rework the show to be a duo after one of the aerialists was injured last year.
On March 6 at 9pm in John Dunmore Lang Place, the Anglo-Australian duo Dream State Circus will join forces with seven Canberra performers to present Through the Flames, a ritualistic celebration of fire.
More Enlighten Highlights
Night Noodle Markets: In Upper Commonwealth Place, authentic Asian foods from dumplings to dosa, along with themed bars and music. February 27-March 8, Monday to Friday from 5pm till late, Saturday and Sunday from 4pm.
Lightning Talks: At the National Library of Australia, listen to seasoned speakers from Toastmasters International wax lyrical on world-changing events for five minutes each. February 27-28, March 6-7, 8pm. Admission free.
Luminous Botanicus: Wander through the Australian National Botanic Gardens along lamp-lit pathways and enjoy thematic garden lighting as well as music and visual performances. The evening ends with refreshments and fire-drumming in the Red Centre. February 27-28, March 1, 6-8, 8 and 8.30pm. Cost: $25.
The Physics of Beer: This adults-only event in Questacon's Q Lab explores the science behind the amber ale. It's on February 27 and March 6 from 7 to 9pm. Cost $31/$26.
Blonde Ambition: This contemporary dance trio will deconstruct and investigate the notion of the feminine ideal through their performance in association with the exhibition In the flesh. National Portrait Gallery, Saturday, February 28, 8pm. Admission is free.
Lights! Canberra! Action!: See the results of the film festival that gives budding filmmakers the chance to write, shoot and edit a seven-minute short film around a theme and 10 specific items. Friday, March 6 at 7pm in the Senate Rose Gardens, Old Parliament House. Admission free.