Fairfax Night Noodle Markets launch at Malamay
It's time to mark your diaries for February 2015.
The Night Noodle Markets are coming to Canberra alongside the Enlighten festival and Andrew Barr and Joanna Savill made it official on Thursday, toasting the event with a glass of bubbly and a bowl of noodles at the one-hat Malamay restaurant.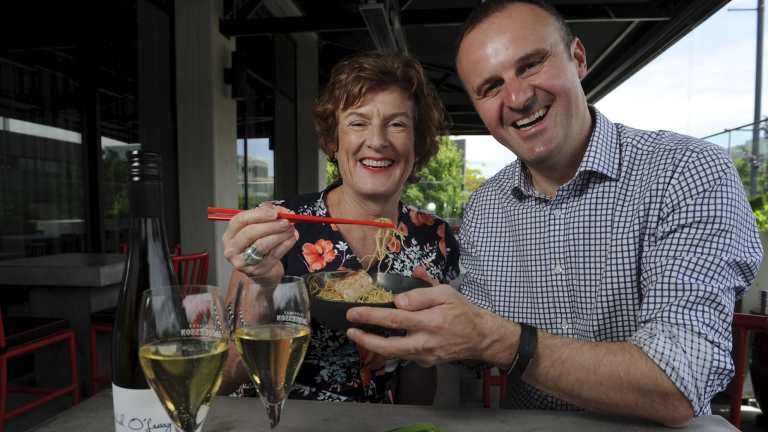 The noodle markets will be held on the lawns between Questacon and the National Portrait Gallery from February 27 to March 8 next year, with Canberra's best Asian-inspired restaurants serving up their favourite dishes surrounded by the colourful light projections of Enlighten.
There will be 25 street-style stalls at the event.
Mr Barr, who is the ACT Tourism Minister, said the noodle markets would combine one of the fastest growing festivals in the Canberra region with a well established and popular food event.
"What I'm particularly pleased about is that the noodle markets will run every night during the events, so we'll have the projections running every night as well, we'll have some very strong specific activities on the Friday and Saturday," he said.
Mr Barr said while the Enlighten festival was strongly attended, people had not previously had a reason to linger while watching colourful artwork projected onto the galleries and institutions around the Parliamentary Triangle.
"Given the geographic challenge with the national institutions, there's a bit of walking distance between them, it'll be great to have the noodle markets at the centre of all of that activity," he said.
The noodle markets will be run as a partnership between the ACT Government and Fairfax, the publisher of The Canberra Times.
The Government has invested $200,000 in the festival through tourism agency VisitCanberra's special events fund.
Although the announcement was still new, it was already attracting interest from restaurants.
Malamay owner Josiah Li said all the restaurants in his business, the Chairman Group, would definitely take part.
"We're very excited - Malamay, the Chairman and Yip, Lanterne Rooms, we're definitely going in, and our new restaurant Lilotang," he said.
Mr Li said Canberra had needed a foodie event such as the Night Noodle Markets for a long time. "We got a lot of great events but this one is very, very exciting and interesting," he said.
The Night Noodle Markets began 16 years ago as part of Good Food Month in Sydney and have since expanded to Melbourne and Brisbane, attracting hundreds of thousands of visitors.
VisitCanberra director Ian Hill said the markets would be a showcase for the region's food and wine.
"What a great venue and backdrop to have a dinner and get involved in the smells and sounds of the Night Noodle Markets, they've been very successful in Sydney and Melbourne and I think it's very fitting that Canberra's going to have its turn."
To find out more about the Night Noodle Markets go to canberra.goodfoodmonth.com