Family desperate for public housing after 18 months on priority list
For Mark Brookhouse, his son's diagnosis with a rare degenerative illness was life-changing. Now he faces losing custody because he can't get a home with wheelchair access, despite more than 18 months on the priority list for public housing.
Mr Brookhouse's points to a bigger problem, with 30 families on ACT Housing's priority list needing disability modifications.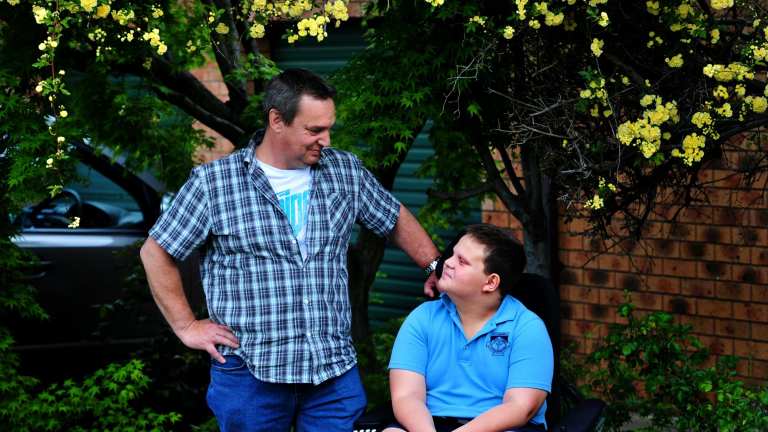 Connor Brookhouse, 12, is finishing primary school. He was diagnosed with Friedreich's Ataxia at 9, after his parents began investigating why he was tripping over and had an unusual gait from the age of 5. Mr Brookhouse said it took four years for the diagnosis because the genetics weren't clear, but they eventually found the very rare combination that had caused the problem.
Connor is confined to a wheelchair, progressively losing control of his arms and legs. He is expected to be confined to a bed at some point during his teens.
He lives half the time with his mother, who has a house converted for disabled use, and half the time with his father, who lives in a rented house with his new wife and two other children. But Mr Brookhouse said the house wasn't wheelchair adapted. He had to carry his son to the bathroom and toilet, and said with "six screws" in his back, the lifting was increasingly difficult.
"He had to come to me and say, "Dad, it's becoming too hard, I can't live with you any more". That was big for him and I don't think a 12-year-old should have to do that," Mr Brookhouse said.
ACT Housing had put his family on the priority list for a four-bedroom house in February last year, but he had been told there was nothing in the foreseeable future. The agency had suggested he join a list for housing in Gungahlin, but he wanted to stay in the southern area – Tuggeranong, Weston or Woden, close to Connor's mother and the children's school.
"How long do I have to wait? They say about 100 days for priority housing, I'm well and truly past 100 days," he said. "There's just nothing out there, and I'm going to lose access to my son at the end of the day."
Connor's mother, Sofie Mont-Brookhouse, said she and her former husband had worked had to ensure Connor could be with both of them, but the issue was coming to a head. "It would be dreadful if Connor lost the opportunity to stay with his father just because they weren't able to provide an appropriate house for him," she said.
Mr Brookhouse said Connor maybe the only child in Canberra with Friedrich's Ataxia.
Mr Brookhouse took his case to Liberal housing spokeswoman Nicole Lawder, who had raised it late last year with then housing minister Shane Rattenbury, and had been told there were no suitable modified homes available. "When I asked how many there were, the answer was that Housing ACT had no centralised records of their disability modified homes," she said. "So it's hardly surprising that they can't efficiently or effectively allocate those disability modified homes."
While unable to discuss individual cases, Housing Minister Andrew Barr gave little indication Mr Brookhouse's case was a priority. He said demand outstripped supply, especially for bigger houses with modifications, and more disability housing was programmed.
Public housing was directed at people most in need, he said, with income part of the equation. Just one five-bedroom house with disability modifications had become available in the past year, he said, and it had been given to a family with two children in wheelchairs who had been living in a house where parents had to carry the children up and down stairs.
·