Farrer residents fear living in shadows of Goodwin Village
Farrer residents fear a proposed five- and six-storey redevelopment of Goodwin Village aged care facilities will overshadow their homes.
The site on 22 Marshall Street includes 73 independent living units, and aged care accommodation for 64.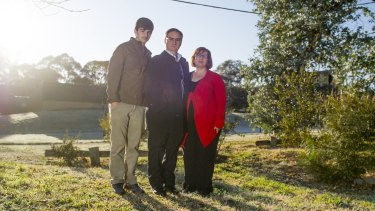 The plans (which are still pending development approval) are to expand to 154 independent units, 84 aged care beds and 40 serviced apartments within four- and five-storey buildings.
Anthony Wicks and Stella Maoudis bought into the suburb 10 years ago and live adjacent to the rear of the site on Sutton Place.
Sitting in his sunlit kitchen for breakfast, Mr Wicks said he wouldn't stand for having shadows cast on his home and his neighbours.
Under the Community Facilities Zone development code the maximum building height is four storeys in cases where development is within 30m of a residential block; Goodwin has applied for a deviation to exceed this.
"These are quite tall buildings and in the mornings they'll totally shadow three houses up our block," he said.
He said something as tall as the Canberra Hospital car park would not fit with the leafy character of Farrer.
"We understand the site is old and is in desperate need of renewing but we don't want it to dominate the suburb," he said.
AMC Architecture director Alastair MacCallum said the buildings would be set back from all boundaries, and orientated to minimise the impact of shadow.
"Under the territory plan provisions, shadows are assessed from 9am-3pm," he said. "It's a half-hour loss on the properties in the middle of winter. I'm not saying they don't have a right to feel frustration but we have really tried hard to minimise the impact."
Mrs Maoudis said along with less privacy, less sunlight would mean higher heating bills and change her home's energy efficiency rating.
Beasley Street resident Simon Torr was concerned about adequate parking and safe access.
"They're planning a right turn off Beasley Street which is just going to back traffic up," he said.
Mr MacCallum said the number of parking spaces in the design exceeded requirements under the territory plan; within a planned five-year stage construction, a slip lane would be introduced.
"We're splitting access for the site to a Marshall Street entry and Beasley Street entry," he said.
He said the development application was expected to be filed and open for public comment in July.
Georgina is a reporter for The Canberra Times