Indigenous, female recruits land dream careers with ACT Fire and Rescue
Mark Parsons is a proud Indigenous man, and now, a budding firefighter.
He was one of two Indigenous recruits welcomed to the ranks of the ACT Fire and Rescue Service on Monday.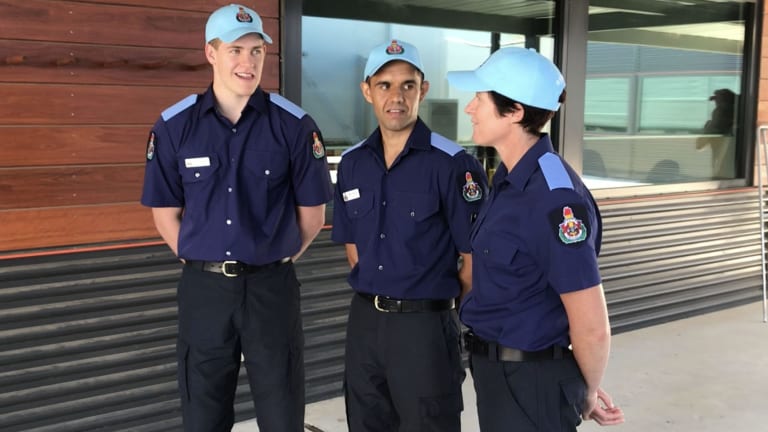 He'll now begin a 19 week intense training course that will prepare him to work with the nation's fastest responding fire service.
Mr Parsons said he was extremely nervous for his first day at training, but felt honoured to be in his position.
"I've always had a passion for it since I was a kid," he said.
He was selected to join the service via the Indigenous Fire and Rescue Strategy (IFARES) and was one of the 18 diverse new recruits from the 'Recruit College 39' program welcomed into the service this week.
The IFARES program aims to increase the skills and knowledge of Aboriginal and Torres-Strait Islander people interested in becoming firefighters.
Mr Parsons said the program helped him achieve his dream career by preparing him for the difficult recruitment process.
Alongside him, Julia Chadburn on Monday was one of only four females in this year's recruitment.
Ms Chadburn, a primary school teacher by trade, was attracted to a more hands-on job that would give her more time with her two sons.
Her journey started 18 months ago when she saw advertisements for female recruits.
Ms Chadburn said she'd like to see more women join the service.
"It would be good to see some sort of strategy in place to start engaging younger girls… from the end of high school perhaps," she said.
Emergency Services Australia started targeting female recruits in 2016 through their Women in Emergency Services Strategy.
While no women were recruited in 2017, in 2016 and 2018 four women joined the service.
ACT Branch Secretary of the United Firefighters Union Greg McConville said the steady improvement in the recruitment of women in the ACT put them on track to one day achieve their goal of 50:50 gender employment.
He believed more women needed to be made aware that firefighting a possible career choice for them.
Minister for Police and Emergency Services Mick Gentleman congratulated the recruits on Monday and reiterated his commitment to increasing diversity in emergency services.
"Recruit College 39 is a wonderfully diverse group of men and women," he said.
"Embracing and harnessing the strengths that diversity and inclusion provide is fundamental to transitioning our emergency services into the future."
All recruits will undertake a 19-week intense training course before graduating as firefighters in June.