Festival's principle focus is to enlighten the locals
They've become one of the biggest drawcards in Canberra's festival season - the impressive light projections on the facades of some of Canberra's most popular cultural institutions.
But while the light displays represent breathtaking feats of technological logistics, the man behind them really just wants Canberrans to take more notice of their surrounds.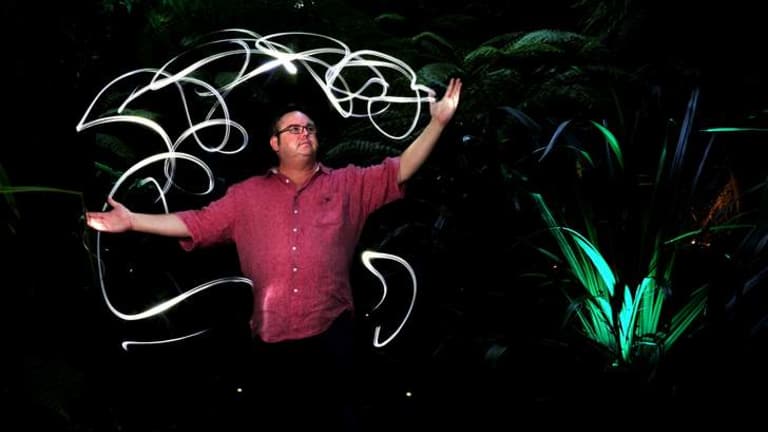 Managing director of Electric Canvas Peter Milne is gearing up to bring another display to the Parliamentary Triangle next month as part of the 2013 Enlighten Festival.
Speaking before the festival's official launch, he said the Sydney company would be repeating last year's innovation by working with five Canberra artists from various disciplines in creating the spectacular projections.
"The challenge for most artists, despite what genre they work in, is to turn their artistic vision into a piece of sculpture, which is in essence what a building is," he said.
"They have to learn to understand the building, think of it in terms of a three-dimensional structure, consider how the public interact and view the building in its environment, as well as keeping the subject matter or concept relevant to the particular institution to which it's applied."
Describing himself as "the bridge between the creative and the technical", he does not work on the designs themselves, but rather advises the artists and technicians on what will work best on the large-scale "canvasses".
He said getting the works right was, not surprisingly, very time-consuming, and that some buildings were more intricate than others. "Buildings like Questacon are simpler in an architectural sense, which brings some other challenges as well, like how do you resist the artist's natural instinct to turn it into a screen. We work very hard to try and get them to think out of the box and be transformative with Questacon," he said.
"The National Library itself is another, it's got its own personality … with its big, strong, tall columns in front of its facade, but once again, we've got to work with the artists in not only remaining relevant to the location but to work in sympathy with the architecture, whether it be transforming the architecture into a different form or using it to illustrate a theme."
He said that while Electric Canvas had worked on large-scale projects all over Australia and overseas, Enlighten was among the most fulfilling.
"This is one of the more satisfying simply because it's not often you get these beautiful buildings outside of the urban clutter in environments where there isn't a lot of stray or environmental light pollution, where you can really do some beautiful work in a reasonably confined precinct," he said.
"We've been wanting to come to Canberra and do this forever, so it's an enormous pleasure and privilege for us to work in the nation's capital and to provide an avenue there for people that are surrounded on a daily basis - I'm talking about just the locals before you even bring the tourism aspect into it - trying to get them to appreciate the wonderful buildings that they might otherwise take for granted."
Enlighten 2013 runs from March 1-9.