First chief digital officer appointed for the ACT public service
The ACT public service will get its first chief digital officer next month as the government moves to further promote Canberra as a leading digital city.
Chief Minister Andrew Barr will announce the appointment of Jon Cumming to the new role on Saturday. He will be based in the Chief Minister, Treasury and Economic Development Directorate and reporting directly to territory Head of Service Kathy Leigh.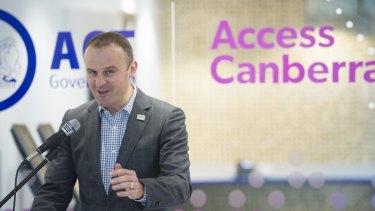 Mr Cumming, currently serving as the chief information officer for the New Zealand government's Department of Corrections, will help to deliver the ACT's digital agenda and improve service delivery and community partnerships.
With experience in the public and private sectors in Australia, New Zealand and the United Kingdom, Mr Cumming has previously worked in telecommunications and health, including on the introduction of new cloud based and mobile first processes in administration and service delivery.
"It had my name written all over it when I saw the opportunity come up," he said from New Zealand on Friday.
"I am really looking forward to getting over there and talking to Canberrans about the digital strategy. There is room for improvement in all industries ... I know in New Zealand there has been a strong emphasis with all government departments to find new ways of opening up digital channels to connect more strongly with the community and make services more effective."
"It is about thinking through about how people want to interact with government."
Mr Cumming said Canberra had a well established reputation for embracing technology to improve the lives of citizens, including through the federal public service and provision of broadband internet.
He said government should work closely with the business community to improve digital delivery.
"I don't think any country or jurisdiction can afford to be complacent about digital. It is a very fast moving environment and positions can change very quickly."
Mr Barr expects the new role will see leadership of a "whole of government digital strategic direction to ensure that our ACT public service is digitally innovative, dynamic and capable in its service to the community."
"The CDO will help the ACT government in the delivery of our key digital priorities; including the strengthening of our vibrant and diverse digital economy, focused on the creation of capacity, collaboration and workforce participation," Mr Barr said.
He said further development would be linked with the ongoing roll out of the city's free wi-fi network, digital spaces and through the creation of new online tools to assist parents and students to access information.
The public wireless internet network is expected to become one of the country's largest networks, with service available in the city and across town centres.
In December the government established the Access Canberra agency to improve government service delivery, call handling, online services and regulatory functions, including in municipal services.
Mr Barr said the new chief digital officer role would also improve co-ordination with other state and territory digital chiefs and the federal government's newly established Digital Transformation Office.
The appointment comes a week after federal Communications Minister Malcolm Turnbull named UK-based public servant Paul Shetler​ to lead the new Commonwealth agency.
Mr Cumming will start in the job on August 17.
Tom McIlroy is a political reporter for The Australian Financial Review in the federal press gallery at Parliament House.