Foreshore nearing fulfilment
THE ACT government expects the Kingston Foreshore development to make a $45 million profit for taxpayers when the last blocks of land sell.
Initially plagued with delays, the 37-hectare former industrial site required extensive remediation to resolve safety concerns about concentrations of hydrocarbons in the soil.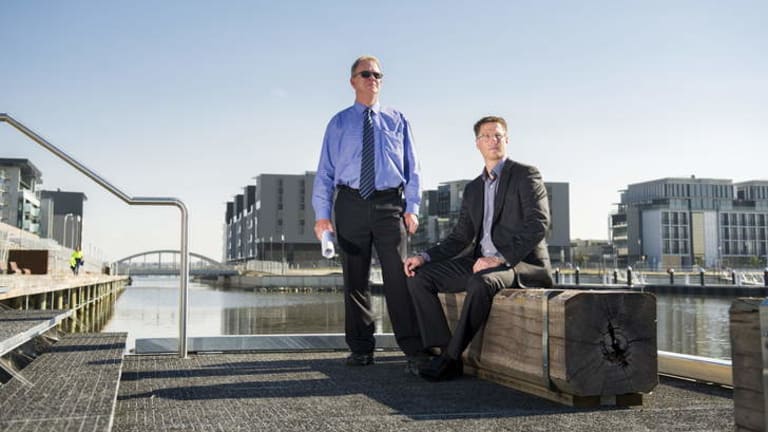 But now the jewel of the $225 million project, a section of the promenade and harbour, is nearing completion and will open next month with the first stage of $3.5 million recycled timber boardwalk expected to open in July.
The Land Development Agency invested heavily in the public areas of the promenade, with $9 million spent on landscaping, $3.5 million on the recycled timber boardwalk, $1.2 million on the pedestrian bridge over the canal to the residential island, and $4 million on the harbour, including pontoons.
Norgrove Park, a 1.2-hectare landscaped eco-pond that will treat stormwater run-off, will keep the angular harbour free of rubbish and improve the water quality.
The LDA's Chris Reynolds said maintaining water quality was one of the concerns of the project.
''It allows the harbour to self- flush and cleanse. Water flows and if that wasn't there water quality would be significantly deteriorated.''
The ambitious government project seems to have paid off, with early projections of revenue for the project totaling $270 million. This figure includes revenue and projected sales.
Now the boardwalk is complete and the Land Development Agency is in negotiations with fronting developers to open it to the public earlier.
Mr Reynolds said they were waiting on developers to finish building.
''You've got a private developer developing half of it and we're doing the other half - we are very much dependant on the progress of the private developer,'' Mr Reynolds said.
He said balancing the mix between public and private space to ensure access and privacy for tenants was essential.
''As the public is enjoying access to the water they won't feel like that is private property, 'I can't walk there', and this is public. It's very much going to be integrated.''
Morning & Afternoon Newsletter
Delivered Mon–Fri.