Four years later, Mrs Jones is ready for action
Her name isn't officially on the door yet, but a temporary sign reading ''Giulia Jones MLA'' is already pinned to what used to be the ACT Assembly's office of corporate services.
Yesterday, the new elected member for Molonglo began moving in to the Canberra Liberals wing of the Assembly building and wondered if the word ''Mrs'' could be added to her official title. The former public servant and mother of four has waited four years to be in this position and says she will be taking her time to settle in and build her support team over the next few weeks.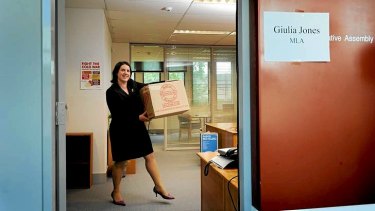 ''I'm not rushing,'' she said.
''I want to make a good choice and have good people around me.''
Tomorrow Mrs Jones will be joined by her colleague, Brindabella MLA Andrew Wall, and Labor's Yvette Berry and Mick Gentleman as the four newly elected MLAs prepare for their new roles.
After missing out in 2008, Mrs Jones said she felt ''really happy'' and, after a hard-fought campaign, as if she had almost had a career at the Assembly in the meantime.
''Essentially it's a bit unknown for me now,'' she said.
''We come in here, we'll have new member training, like the baby MLAs, and we'll learn all the rules, the rules of engagement, the rules of behaviour and all those sorts of things. I'm looking forward to that.''
But Mrs Jones said she did feel some apprehension heading into the first sitting day of the Assembly next Tuesday.
''That does daunt me a little bit, the idea of sitting in a chair in the chamber.
''I really haven't entertained it too much to think about it because, I guess, it's such a hard fight to get in,'' she said.