Frame of Mind: Canberra's Sam Young-Wright lives his dream
For Canberra-born dancer, Sam Young-Wright, the year 2015 has started with something of a flourish. He has a new contract with Sydney Dance Company, fulfilling a long-held dream; he has just finished performing at the Sydney Festival in an astonishing installation, Inside There Falls, by London-based artist Mira Calix; he is busy rehearsing for Sydney Dance Company's first full program for 2015, Frame of Mind; and he has just moved into a new, inner-city apartment in Sydney.
"I don't think I'll be in the apartment for more than about two or three months this year though," he says. "We will be touring around Australia and we also have engagements in Germany and South America."
Frame of Mind, a double bill program from Rafael Bonachela, Sydney Dance Company's current director, and world renowned American choreographer William Forsythe, will play in Canberra in late April. With his strong ties to the Canberra dance scene, Young-Wright jokes that Sydney Dance might offer him a commission for all the tickets he hopes his return will generate.
"Actually, it is every dancer's dream to dance in his home town. I danced on the Playhouse and Canberra Theatre stages so often with Quantum Leap, in Youth Dance Festivals and in Rock Eisteddfods while I was in high school. It was a big part of my upbringing. So to go back as a professional dancer with this wonderful company I am part of now is just thrilling."
Young-Wright played a lot of sport as a child growing up in Canberra, but he watched his older sister dancing and practising callisthenics and eventually decided to try dance himself. He began in a boys-only hip-hop class with Fresh Funk at the Tuggeranong Arts Centre and then moved on to work with Ruth Osborne and Quantum Leap. It was with Quantum Leap that he began to take dance seriously. He not only appeared in the youth company's Canberra programs, but did several national and international tours with them, including a tour to the Adelaide Fringe Festival, to Perth for the Australian Youth Dance Festival, to Jamaica for another Youth Dance Festival and to Bangkok on a cultural exchange.
But, as he began to think hard about a career as a professional dancer, he realised that for a properly rounded training in dance he needed to take ballet classes in addition to the contemporary training he was getting with Quantum Leap. So he enrolled at the National Capital Ballet School.
"Kylie Hunter, then director of the school, understood my perspective on ballet, that it was a means of training and conditioning my body for the career I wanted in contemporary dance."
And when he went on to tertiary training at the West Australian Academy of Performing Arts (WAAPA) he took the ballet stream knowing that this was where his skills needed the most work, and where his experience was lacking. He even danced in WAAPA performances in some of classical ballet's most iconic repertoire, including Les Sylphides and George Balanchine's Serenade.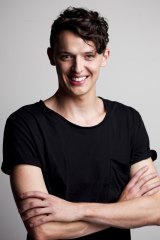 While at WAAPA, Young-Wright also took part in a number of exciting international ventures involving two trips to Beijing to perform. He was, in addition, seconded in his final year at WAAPA to appear with Sydney Dance Company in their De Novo program, which gave him a taste of life with Sydney Dance. Then, after graduating from WAAPA in 2013, he was thrilled to be offered a place in Sydney Dance Company's pre-professional training program.
His sights had been firmly set on a contract with Sydney Dance Company for several years. He admired the work of Bonachela. He also admired the company's standing within the Australian dance community.
"I was very much drawn to Raf's work. It is really beautiful, and it is entertaining for non-dance people," he says. "But Sydney Dance also has a lot of prestige, which goes back to Graeme Murphy's time. It's regarded as the prime contemporary company in Australia and I think it's a goal of a lot of dancers to join Sydney Dance. I also remember Paul Zivkovich, another Canberra dancer who joined Sydney Dance Company. I remember he toured to Canberra in an early work by Raf, We Unfold. I was inspired by Paul, who had also been a Quantum Leaper."
Young-Wright's appearance in the Sydney Festival installation, Inside There Falls, gave him an unusual kind of interaction with audiences. The installation was an immersive experience for the audience who, after donning special white garments, were able to follow the paths the dancers took as they wove their way through a circular maze of hanging sheets of paper. The dancers had a set series of moves to work from, choreographed by Bonachela, but had to work with certain variables. People moving freely in the performing space meant the dance sequences were never quite the same from performance to performance. "Rarely as a dancer do you have that kind of interaction," Young-Wright said.
Now in rehearsals for Frame of Mind, he is enjoying the kind of open process that Bonachela employs as he builds up a new work from improvised movements created by the dancers. It is too early in the process to describe how the work will look but Young-Wright suggests that certain moods or emotional states experienced by choreographer and dancers over the past year are the impetus for Bonachela's choreography in this case. Young-Wright is waiting with anticipation too for work to begin on the second piece on the program, William Forsythe's Quintett, an emotional, final love letter Forsythe made for his terminally-ill wife. Young-Wright is well aware that Forsythe's work has a strong balletic streak to it and that he pushes the dancers to physical extremes. So all those ballet classes will come in handy.
Frame of Mind, a double bill by Rafael Bonachela and William Forsythe, Sydney Dance Company. Canberra Theatre Centre, April 30 to May 2. Bookings: