Freda Whitlam, sister of former prime minister Gough Whitlam, has died in Sydney aged 97.
Although not nearly as famous as her brother, Ms Whitlam played a significant role in education, and the Uniting Church in Australia.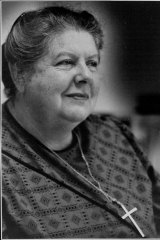 From a famously intellectual family that moved to Canberra when father Fred Whitlam was appointed Crown Solicitor, Ms Whitlam attended Canberra Girls Grammar and later became a French teacher there.
She was awarded a Fulbright scholarship to study a degree in education and economics at Yale in 1954, and later became principal at Presbyterian Ladies College in Sydney's inner west.
She never married or had children but devoted her life to the church, and was involved in the union of Presbyterians and Methodists that became the Uniting Church.
She later became the ninth moderator of the NSW/ACT Synod and an influential member of the Penrith Uniting Church.
Education was her other main passion; she sat on the board that founded Western Sydney University, and helped to bring the University of the Third Age to Australia.
Her cousin Judith Ingle, who lives in the Canberra suburb of Monash, said Ms Whitlam was "the most amazing woman", teaching Latin well into her 90s, and studying and translating in Arabic.
"She was an intellectual with an amazing brain - she was Gough's sister without a doubt," she said.
Ms Ingle recalled a family legend about Ms Whitlam's first day of school, where she began at the relatively late age of 7.
The Whitlams had a house full of books, and Gough, four years her senior, was already well into the classics by the time his younger sister fronted up to school.
When the teacher asked the young Freda whether she knew any nursery rhymes, the girl famously replied "no, but I can recite the Greek alphabet backwards".
Ms Whitlam was the subject of a biography published In 2009, by Noelene Martin.
Ms Martin said at the time that she had chosen to write the book because Freda's was a story that deserved to be told.
"I found out that Freda in her own way had been influential— in education and in connection with the church — but she'd been overshadowed by Gough," Ms Martin said.
"She made a contribution I thought was of equal importance but the way people saw Gough often influenced the way they saw and reacted to Freda."
Ms Whitlam was a passionate advocate for women's ministry, which she referred to as "one of the glories of the Uniting Church."
She died on Wednesday, May 30, in a nursing home in Penrith.