Fringe Festival rides again, with old hand Jorian holding the reins
It's comeback week here in Canberra, up on the hill and out on the fringe.
Kevin Rudd is not the only man to have been reinstated to what he believes is his rightful position; Jorian Gardner has been handed back the Fringe Festival, four years after the popular event was abandoned amid bitter funding disputes and disagreements over risque content.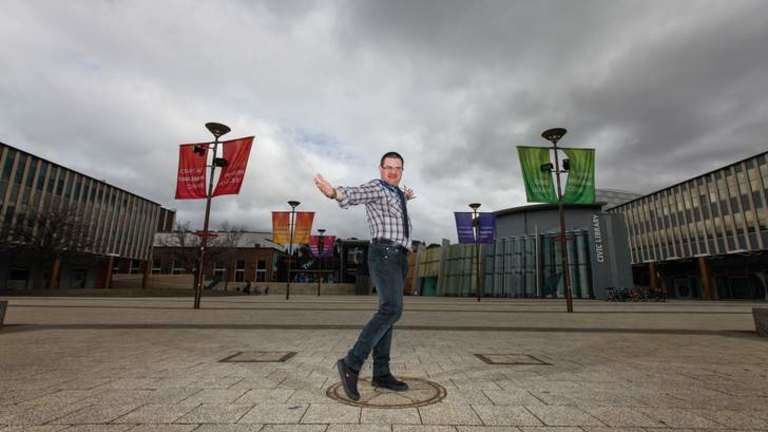 The rambunctious arts personality lost the helm of the Fringe in 2009, when then ACT multicultural affairs minister John Hargreaves made the decision to merge the event with the National Folk Festival.
For five years the free event had formed part of the Multicultural Festival that transforms the city centre each February.
But punters interested in the alternative arts scene had to first purchase a ticket to the Folk Festival - $100 or more - if they wanted to see what Canberra had to offer.
''That was a very disappointing thing that [John Hargreaves] did, and there were a lot of people that didn't agree with it,'' Mr Gardner said on Thursday.
''I knew they'd only funded it for three years, so I had been lobbying for it to come back into town after that, or to find out what happens after that funding has finished, because I was very worried that that would be the end of the game.''
The Fringe did make a return to the Multicultural Festival this year, but with a budget allocated from arts funding on a competitive basis.
Mr Gardner, who founded the original festival in 2004, applied to run the show, and was ''extremely disappointed'' when unsuccessful.
The February event was a much diminished version of the original fringe, running for just one night.
Mr Gardner then lobbied ACT Arts Minister Joy Burch directly to commit money for the 2013-14 budget and allow him to run the festival again.
And he was successful. Ms Burch announced on Thursday that Mr Gardner's experience in fringe events and collaboration with the arts community meant that he would be able to successfully resurrect what had been a successful event. ''We were keen to bring back the flair and edge that Mr Gardner brought to Civic Square,'' she said.
The government has committed to fund the festival with $20,000 annually over four years to support the fringe event alongside the Multicultural Festival, as well as $20,000 in in-kind support for infrastructure and public liability insurance for 2014.
The funding was allocated as a separate item in the budget, which meant more flexibility in deciding who would run the event.
Mr Gardner has been retained to run the event for 2014 only at this stage, and maintained that he was the best person to help get the festival back on its feet.
''That doesn't mean that I want to be the director of the Fringe for the next 20 years, it means that my sole goal here is to get it back on the agenda, get it back in the budget, get it back into Civic Square, job done.
''I will put on a great fringe next year, and I will invite a whole bunch of artists around me and young people in town to take over and do this in the years to come,'' he said.
But he said the reason behind the change of heart was simple.
''The government is, I think, of the opinion that what they want is what they had before, and that is a big party in the middle of Civic Square that has a multicultural tinge to it, during the Multicultural Festival, but brings back to the fringe alternative arts,'' he said.
But he admitted that, like Prime Minister Kevin Rudd, he had learnt a lot during his time away.
''I need to be as careful as I possibly can about my budget to bring in more sponsors …and I have time to do that now,'' he said.
''I've turned 40, so maybe it's about time I pissed a few less people. From that point of view, I've grown up a little bit and there won't be as much controversy.
''I'm not saying there won't be any … but I guess I need to not have naked burlesque dancers out the front of the Legislative Assembly. Maybe that won't work.''