From Kickstarter to book deal: The story of Canberra's Dr Elizabeth Pimms
Canberra author LJM Owen's appeal for funding to self-publish her first book had an unexpected outcome.
When Canberra author LJM Owen finished her book - the first in an anticipated series of nine - she did not pitch it to publishers.
"You will suffer endless rejection, it will really hurt you, and you won't keep writing" were her friends' grim warnings. So Owen didn't even bother. She set up a Kickstarter crowd-funding page instead, with a mission to self-publish and the modest goal of raising $10,000.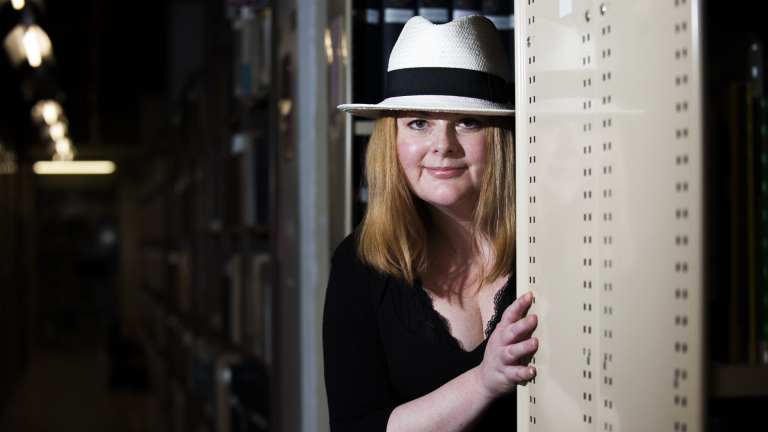 But here's where her story took an unexpected turn. Within five days of the funding page going live, Melbourne-based Echo Publishing contacted Owen to request a copy of the manuscript and the story of Dr Pimms, Intermillenial Sleuth.
Owen's protagonist, 26-year-old Elizabeth Pimms, is a frustrated archeologist with an eidetic memory who was forced from fieldwork and into librarianship to support her family. "Cosy crime fiction", the story is big on comfort food, squashy couches and warm nights in front of the fire.
Much of the book is set in Canberra, in a fictional National Library, where Pimms works while she unpicks the cause of mysterious deaths in ancient civilisations and more contemporary crimes against academia.
There are so many outward similarities between Dr Pimms and her creator that scratching the surface to see how deep they go is irresistible. A perennial student, Owen earned a PhD in palaeogenetics over seven years, and afterwards completed librarianship training.
Her three cats Ella, Coco and Lou Lou may bear "some resemblance" to Dr Pimms' own cats, including one that exists only in her mind. "Yes, I'm that kind of cat person," Owen says, pulling out her phone to share photos.
Like Pimms, Owen also has a Welsh grandfather, but she says this is where the similarities end. For one, in the end neither archaeology nor librarianship were careers she would pursue.
"I was trying to keep myself interested and occupied and thought about maybe a career change," Owen said when we met at - where else - the National Library. "But somewhere along the way I thought no actually, I don't want to focus on being a librarian day-to-day, I actually want to write about everything I'm excited about."
And Owen is excited by a lot of things.
She has crammed a lifetime of learning into her thirty-something years. In addition to archaeology, palaeanthropology and librarianship, subjects to which she has directed her attention also include Chinese, French and Spanish. These infatuations - to which we can add food and cats and ancient civilisations - have all made it into her book.
Canberra, with its libraries and bookstores, is the only place Owen calls home. Her 20 years in the capital is the longest she's lived anywhere.
Her family moved often around NSW when she was younger and she lives now in Dodsworth, a little suburb on the edge of the ACT border in Queanbeyan. She spent two years researching, planning and writing her book while working full time in the public service.
Angela Meyer, a commissioning editor at Echo Publishing who discovered Owen's Kickstarter, said she considered it part of her job now to sift through crowd funding websites for people raising money to self-publish, of which she says, there are plenty.
The stigma of self-publishing meant it was once a writer's last resort, but with e-books now a thing it isn't such a leap, Meyer says. "People have a different perception of self-publishing [nowadays], and some will try to do that before even approaching publishers."
Crowd-funded books add many more manuscripts to the hundreds and hundreds of unsolicited works the company receives each year, but occasionally - for Meyer just twice in one year - bear fruit. "When I started reading [Olmec Obituary] it just seemed so genuine, there's something about the voice that always strikes me," she said.
Although Echo Publishing had picked up Olmec Obituary, Owen continued with the painful process of self-publish - learning how to market, print, layout and design a book and e-book. "I had to do the right thing, all these people believed in me," she says. Here, a little of Dr Pimms' urge to do the right thing surfaces in Owen.
With an anticipated nine books in the series - one each year from now - Owen has set herself an ambitious task. Each book will explore a different civilisation and the people that lived in them, a pattern that demands Owen spend weeks and months engrossed in academic books and papers before the words are written.
When asked what will keep her going, she doesn't hesitate: "Obsession. So many people have said to me, oh you're a writer you must be so disciplined. There's no discipline in writing, you're either obsessed or you're not."
The first book in the series, Olmec Obituary, will be launched at the National Library at 6pm on November 19, 2015. The event is free, but bookings are advised.
Alexandra Back is a reporter with The Canberra Times