Gallagher was in France with ACT data-tamperer
Chief Minister Katy Gallagher spent time during a 2010 overseas holiday with the Canberra Hospital executive who later confessed to tampering with emergency department data.
Ms Gallagher confirmed last night she had seen Kate Jackson during a trip to the south of France but only because they were both visiting Ms Gallagher's sister.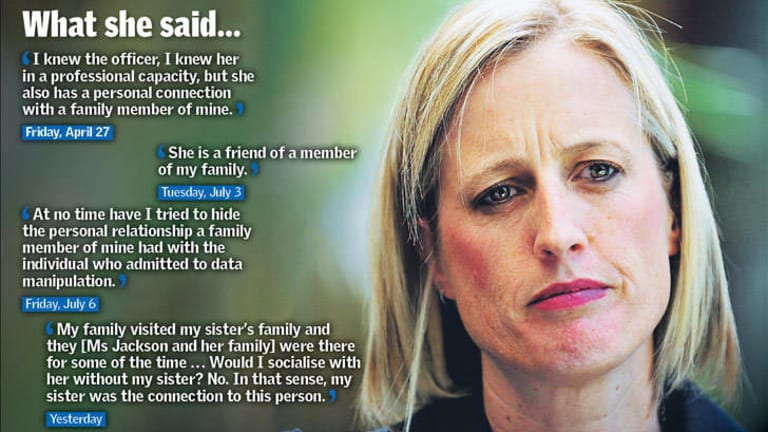 The opposition last night accused Ms Gallagher of deceiving the public about the extent of her relationship with Ms Jackson.
But the Chief Minister said her only personal connection to Ms Jackson was through her sister, who was a friend of the hospital executive.
Ms Gallagher said when she was on annual leave in 2010, she and her family stayed with her sister, who was also on holiday in the south of France.
She said Ms Jackson, who was a friend of her sister, and members of Ms Jackson's family were there at the same time.
Ms Gallagher said: ''I visited my sister. Yes, she [Kate Jackson] is a friend of my sister and when I was asked did I know her. I said yes I did know her.
''Would I socialise with her without my sister? No. In that sense, my sister was the connection to this person.''
Ms Gallagher said Ms Jackson had attended her 40th birthday party as a guest of her sister.
Opposition health spokesman Jeremy Hanson said last night Ms Gallagher had deceived the public about the extent of her relationship with Ms Jackson.
''It's quite clear Katy Gallagher has not been telling the truth about her connection to this scandal,'' Mr Hanson said.
''We know Canberrans have been deceived for years about the performance of our emergency departments. Now it turns out we have been deceived for months about the true extent of the relationship between the Chief Minister and the executive at the heart of this scandal. This deception goes directly to the Chief Minister's judgment and credibility and will justifiably leave the community asking serious questions about whether they can trust Katy Gallagher ever again on health issues, or anything else.''
Ms Gallagher said she did not recall discussing work with Ms Jackson during the holiday, which occurred when she was deputy chief minister.
In April, Ms Jackson admitted to making hundreds of changes to emergency department data to improve waiting time figures.
Ms Gallagher subsequently handed responsibility for ministerial oversight of investigations into the matter to Deputy Chief Minister Andrew Barr, due to the executive's link to a family member.
Ms Gallagher said last night she had legal advice from the ACT Solicitor-General not to say anything that might publicly identify her sister or Ms Jackson. Discussing the holiday could have potentially identified her sister or Ms Jackson. Ms Gallagher was cleared by an Auditor-General's probe of any involvement in the data tampering.
It was not publicly revealed until last month that Ms Gallagher's sister worked at the Canberra Hospital and was friends with Ms Jackson.
Ms Gallagher said if she had been found to have been involved in the data doctoring she could understand why there would be public interest in her dealings with Ms Jackson.
But she had been cleared of wrongdoing and had a right to protect the privacy of herself and her family.
''If there had been the slightest sense that I had done something wrong then, yes, I accept that this might be salacious news to people,'' Ms Gallagher said.
''But the reality is that there isn't. I've done nothing wrong.''
Ms Jackson resigned from the ACT Health Directorate two weeks ago, effectively ending a disciplinary process that had been launched against her.
Morning & Afternoon Newsletter
Delivered Mon–Fri.