Gang-gang: Cream pies whip up support for children's charity
Here we go again, offering some heart-warming news to help us all in these chilling times. We report something a witness tells us was "so simple and so beautiful, at a time when the world seems to be going to rack and to ruin".
Normally, we'd never recommend that children throw things at their teachers (some of us, schooled in the harsh olden days, can remember wishing we dared to throw jagged rocks at our teachers), but a recent feat of year 3 children of Gold Creek (Junior) School has us revising our stance.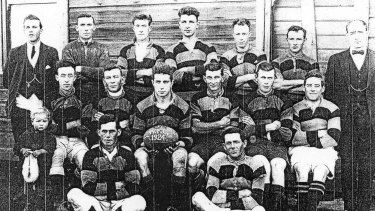 During a fabulous half-hour feat of fund-raising at the school last Friday during a recess, one of the activities invited all and sundry to pay, with a gold coin donation, for the chance to hurl (at point-blank range) a plate of cream at a teacher, Mr Rixe.
Our reliable witness (a mother of one of the participating children) laughs that poor Mr Rixe "looked rather bedraggled at the end of it" but had been a good sport.
He not only volunteered for the ordeal but egged children on, saying that if he'd somehow upset any of them (perhaps by raising his voice), here was their chance for revenge.
The background is that everyone in the school's year 3 is discussing Distribution of Wealth (this will sound dangerously like socialism to our Prime Minister and his government, so let's not tell them about it) and that while doing so, up came mention of a charity, United World Schools. UWS invites people to think how just $1 can send a Cambodian child to school for a week and so one year 3 Gold Creek class asked itself, "Can we raise $52 so that we can send one kid to school for a year?"
Year 3 student Isobel Evans has been able to report to the charity that, "We came up with the idea of a mini-market. We asked our parents for donations of items and we sold hair-colouring, icy poles, popcorn, lollies, cakes and we threw cream pies at one of our teachers. All of these things were for a coin donation. Our goal was to be able to send a child to school for one year, $52, but instead we were able to send a kid to school for 28 years, because we raised $1494.90."
UWS has sent the children the charity's heartfelt thanks for being so "fantastic".
Our reporter at the cream-splattered scene reports all parents (and probably even the bedraggled Mr Rixe) were enchanted by the goodness of an occasion that, in these ugly times, made them feel "warm inside" and restored some faith in our species' innate goodness.
Readers, does your child's school have a cream-magnet, a Mr Rixe? You can find out all about USW and its heart-warming work at www.unitedworldschools.org