Gang-gang: Rediscovering Canberra's lost suburb of Westlake
In our picture, what is this man doing that is so horrifying the people (most of them children) who are watching him do it? What thing is he holding up that they're finding so gross? Where and when is this atrocity taking place?
All will be explained in a few haunting paragraphs but we begin by telling you something few of you will know. It is that once upon a time Canberra had a suburb that today is no longer there.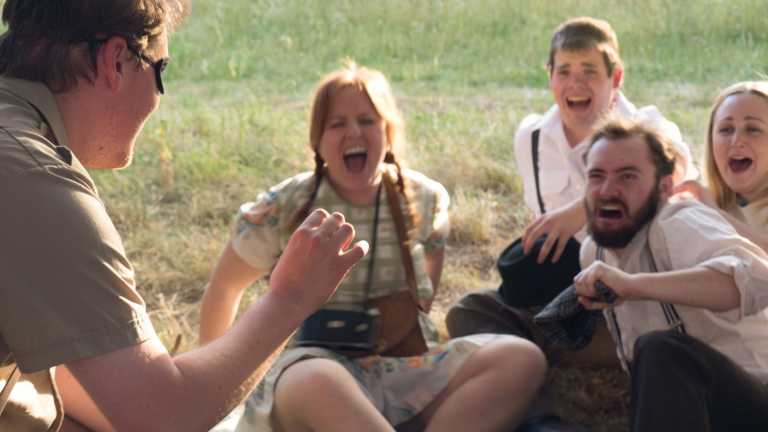 This will strike today's suburban Canberrans as a very strange, eerie concept, since suburbs as we know them are a kind of definition of solidity and permanence. My own suburb of Garran, though deeply dull, seems set to endure for centuries, just like Stonehenge or the Great Wall of China (albeit without any of their charisma).
But the Canberra suburb of Westlake existed from 1922 to 1965, and yet has vanished. Now, to enable us to remember it and to give its unfulfilled ghost (can a vanished suburb have a ghost? Yes, of course it can) some satisfaction, and to give masses of Canberrans some poignant fun, there is to be Anthology, a season of "theatrical journeys" through lost, vanished Westlake.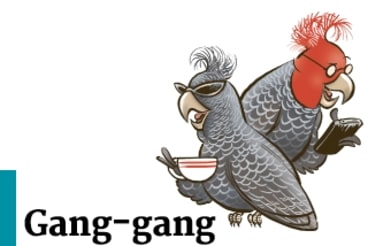 Pip Buining, one of the event's creators and producers, explains that Westlake (sometimes with a population of 700) nestled where today's Stirling Park is.
Buining says that "The site is Ngunawal land, Guru Bung Dhaura followed by 61 temporary cottages, designed by architect H.M. Rolland and built in 1923, for married
"Westlake was planned and built. Families were moved in, went to work, built friendships, got married, had children, created gardens, held funerals. The temporary suburb became a community. But when it had served its purpose and the workers were no longer required, the houses were sold off one by one and taken away on the backs of trucks. Westlake was erased."
Erased but not entirely forgotten. The indefatigable Ann Gugler, once a resident of Westlake, has tirelessly documented the lives of the residents of Westlake. This columnist has her books and, many years ago, was taken by her on a tour of the place where Westlake had stood. One has to be insensitive and oblivious to our dear city's history not to find Westlake's story fascinating and touching. I have been fascinated and touched by it ever since my tour (and have been back there several times) and you can tell talking with Pip Buining, that she and the miscellany of artists involved with Anthology, have been similarly gripped.
"On the Anthology walks our audience will be guided through Westlake, by a fictional descendant of H.M. Rolland. The remnants of a community are waiting there to be discovered, fragments of hidden memories can be glimpsed, [by those on the theatrical journeys], shadow spaces inhabited by workers and their families are littered with broken conversations. A forgotten community is suspended in time, whispered stories are waiting to be heard."
"Anthology eulogises the lives of the unsung transient workers, past and present, who have built our nation's capital. It delves into our unspoken past and remembered present to reveal rich potential in our imagined future. It's factional storytelling from the heart - combining performance. It's i
"Anthology has taken on a life of its own. You can feel that it's a story that wants to be heard. We feel privileged to be able to tell it. Westlake and its residents were made invisible – we seek to make it all visible again. Westlake is a suburb that just wants to be seen!"
Yes, but what has all this got to do with the man in our picture doing something disgusting?
Well, one of the residents of Westlake to be celebrated, theatrically (with everyone in costume and notice how the people in the picture are creatures of circa the 1940s), is Ernie Corey.
Pip Buining rhapsodises about him that he had been a legendarily brave stretcher bearer in the Great War, earning the Military Medal (given for bravery) four times. After the war he came to Canberra to work and to Westlake to live, and because he was married he lived at one Westlake's cottages. He lived at number 30.
Now somehow, and Buining is sure it was because of paramedical skills he'd acquired while stretcher bearing, he became important to Westlake's children as a source of first aid. You might fall off your bike, your mates might take you to Ernie to be patched up and then, while he'd got a captive audience, he'd say "I've got my eye on you," and take out and brandish his glass eye!
ANTHOLOGY will run from 26 November to 6 December. Details and ticketing at anthology.net.au
Ian Warden is a columnist for The Canberra Times