Gastro outbreak at Calvary Hospital as NSW cases spike
An isolation ward has been set up at Calvary Hospital and visitors are being discouraged as the hospital works to contain a gastro outbreak.
And ACT Health said there were a "small number" of gastro cases at Canberra Hospital, also being managed on one ward.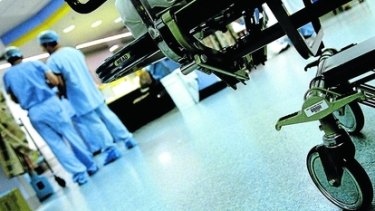 At Calvary, an intensive care patient was diagnosed with the highly contagious norovirus - which causes fever, cramping, vomiting and diarrhoea - Friday last week.
Calvary Hospital chief executive Karen Edwards said there were 16 suspected cases of the virus and the patients were isolated.
The general medical ward 5W has been closed to new admissions and staff movement across the hospital was being restricted.
The hospital said visitors might be asked to wear gloves and gowns, and advised children and immune-compromised people to avoid visiting affected people at the hospital.
Surgeries, the emergency department and outpatient appointments were continuing as normal, but people booked for elective surgeries were being invited to reschedule.
But one man said his wife, who had a caesarean birth under general anaesthetic two days ago, was rushed out on Thursday, a day early. He was concerned because she was still in a lot of pain.
"My concern is the continuance of care. The whole thing is, there were no options provided, in essence, we're told they are getting everyone out by 11.30," he said.
"My wife explained to them she was in pain, [and] they gave her some Endone to calm the pain. Why would they give her such strong painkillers if there wasn't associated pain?
"Did they think there was no pain, making it more feasible to discharge her, but give her opiates anyway or they knew she was in pain but had direction to clear everyone out?"
In a statement, Ms Edwards said patients would not be discharged without the clearance of their treating medical officer.
"Where suitable and safe for patients, ongoing treatment as Health in the Home or outpatients will be discussed to enable an earlier discharge," she said.
Also on Thursday, NSW Health issued a public health warning after an above average number of people went to emergency with gastro.
ACT Health said viral gastro cases weren't notifiable in the capital. The government had not seen a recent spike in cases, but said norovirus was common around this time of year.
The Canberra Hospital ward is closed to admissions but the closure will be reviewed on Friday. There was no impact on other hospital operations, a spokeswoman said.
Norovirus is a very common and highly contagious viral infection that causes gastroenteritis and can cause outbreaks at any time of the year, but more commonly during winter and spring.
Once the outbreak is contained, contaminated areas must undergo an intensive cleaning process that can take a week or more.
Alexandra Back is a reporter with The Canberra Times