Giulia Jones says marriage about 'men growing up' as two take Andrew Barr up on proxy vote offer
Two Australians in London have already taken up Chief Minister Andrew Barr on his offer to vote as a proxy for them in the upcoming postal survey on same-sex marriage, as ACT parliamentarians attempt to sway voters towards the 'yes' and 'no' campaigns.
While the marriage survey is being conducted by the federal government, the postal vote dominated ACT politics this week.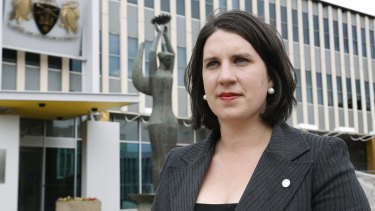 Liberal politician Giulia Jones told the Assembly on Thursday night she believed marriage was "intrinsically about getting men to grow up and take responsibility for the women they get pregnant".
"Marriage is based on my view on the concept of the Latin word matrimonium. Matrimonium means the making of a mother, the state of becoming a mother," Mrs Jones said in her adjournment speech.
"It's essentially a feminist or female-focused concept for the sake of women and the children who grow in their wombs.
"Nothing of the same-sex movement changes the biological reality that women bear babies, grow them in their wombs, and society can support ... structures that get men to grow up and take their roles seriously."
She said she had been inundated with messages from people in different faith and ethnic groups afraid to voice their views on same-sex marriage because they would be socially isolated.
She called on those people to "have courage" and vote with their conscience.
"There is nothing wrong with you if you think marriage is fine as it is, for the purpose of keeping together couples who do produce children or do have children, to keep men with the mother of their children wherever possible, and wherever possible for men to be present in those children's lives. I just want to say it's okay to say no," Mrs Jones said.
On Wednesday, Mr Barr offered to stand in as what the Australian Bureau of Statistics is calling a "trusted person", and vote for people who could not vote for themselves.
He later said he had been contacted by many people overseas who feared the "highly unusual" postal survey process would exclude them.
"The 'trusted person' or proxy voting process could allow those people to participate," he said. "I am happy to act in that role for anyone who wants to guarantee a 'yes' vote."
He confirmed on Thursday two people had actually reached out to him to take him up on the offer.
Katie Burgess is a reporter for the Canberra Times, covering ACT politics.