Graham Tuckwell donates $100 million to Australian National University in nation's largest act of philanthropy
Canberra-born global commodities trader and billionaire Graham Tuckwell and his wife Louise have made Australia's largest philanthropic contribution to a university, worth about $200 million over three decades.
The couple will donate about $100 million for two new halls of residence at the Australian National University to accommodate 800 students, which will fund a major expansion of the prized Tuckwell Scholarship Program.
Their contribution will also fund a $10 million purpose-built Scholars House for scholarship recipients and the running of the program.
Mr and Mrs Tuckwell donated $50 million to the ANU in 2013 to establish the scholarship program.
The couple were so delighted with the program's success, they wanted to see it last well into the future.
"Together we came up with this idea that ... instead of putting money in the bank or in investments and it generating the money to fund the program, we thought why not put it into something really productive - student accommodation - which can help fund it," Mr Tuckwell said.
"So you get the double benefit of funding the program, but more particularly it now gets extra accommodation on campus which we think is just the sort of thing we're also trying to do, in other words, make residential experience a key part of more students' lives."
ANU vice-chancellor Professor Brian Schmidt said the collegiate-style residences would generate revenue to fund the scholarship program in perpetuity and lead to an increase in the number of scholarships offered each year.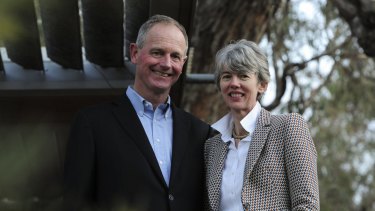 The new residences are expected to generate about $200 million revenue over the next 30 years to fund the scholarship program.
The Tuckwell's donation was the largest personal philanthropic contribution ever made to an Australian institution and their "monumental contribution" would leave a legacy for many decades to come, Professor Schmidt said.
"It is truly a huge effort by Graham and Louise to do it and the university is eternally grateful," he said.
"In the future, there will be 250 Tuckwell scholars here at one time. Over generations, we're talking thousands of people, and so these [people] are the future of Australia and I would not be surprised if we didn't have future prime ministers, future leaders of companies, future Nobel Prize winners, you name it, it's probably going to come out of this cohort."
Mr Tuckwell said he and his wife had benefited "enormously" from their educations and university had been a transformative experience for both of them.
He hoped the scholarship program would help transform the lives of future students, ANU and "hopefully Australia in years to come".
It currently supports 68 Tuckwell Scholars at various stages of their undergraduate degrees. The scholarships hold a value of $100,000 per student over five years for a program of undergraduate study.
"You get a great group of people together, they feed off each other and they just really develop things that wouldn't be done otherwise and that's the great joy that we're getting and ANU is seeing it too," Mr Tuckwell said.
Mr Tuckwell who lived in Bruce Hall as an ANU student, credited his "world-class" education with allowing him to move from Canberra and succeed in global finance.
"For me, in my work in international finance, the degrees I obtained here were so established and well-known that I was able to compete in a world market against people from New York, London and all over the place coming from top universities," he said.
ACT Chief Minister Andrew Barr, also an ANU graduate, said the higher education sector was critically important to Canberra's economic future.
"It's fantastic to see ANU, one of the world's best universities, receiving this kind of support to help more Australians benefit from the great study experience the capital can offer," he said.
Bruce Hall has been touted as the preferred location for the accommodation, but a final decision is yet to be made. The residences are expected to open in 2019.
Natasha Boddy is a homepage editor and online producer with The Australian Financial Review.