Grand final time! Lucy Sugerman's 'The Voice' dream is almost a reality
The winner of Channel Nine's The Voice will be crowned in less than a week's time - and for the first time ever it could very well be a Canberran.
Our very own Lucy Sugerman, 15, is through to the grand final of the singing competition after stunning performances of Birdy's Skinny Love and Bjork's Oh So Quiet on Sunday night.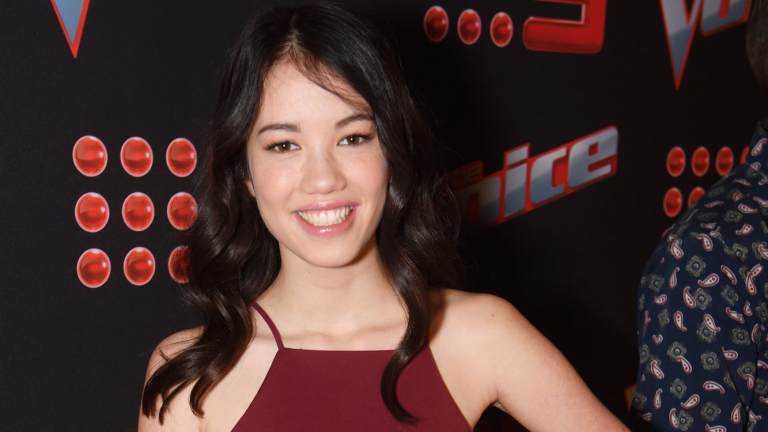 Eight singers fought for just four remaining spots in the competition, with Lucy surviving two heart-wrenching elimination rounds over the three-hour episode.
The St Clare's College student is the youngest singer ever to make it through to The Voice grand final and now faces a huge week in Sydney preparing for a show-down against three other singers next Sunday night.
Vocal coach Seal described Lucy's performance of Skinny Love as "ironic".
"Five months ago little Lucy Sugerman made her first appearance and stole Australia's hearts," he said.
"And now she's here tonight in her best performance to date. You were flawless Lucy.
"You are destined to be a star and we are all just along for the ride."
Fellow The Voice judge Boy George told Lucy he loved her.
"I want to criticise you but I can't," he said. "I'm a big fan."
Lucy has been based in Sydney full-time for the past three weeks, rehearsing for the Sunday night live shows as well as managing a busy daily schedule of media interviews, mentoring, workshops, wardrobe fittings and recording at Universal Studios.
Because she's so young, mum Lynne and dad Michael have been by her side consistently.
"I'm just very, very grateful to still be here at this stage of the competition and to be in the position I am," Lucy said.
"Seal is fantastic - he cares about the show but he also cares about what we might be doing after the show. He wants us all to achieve something from The Voice.
"We go to his house, we have a group chat, he's so invested in all of us and I've learnt so much from him."
Lucy's aim of "gaining exposure" from the reality show has well and truly been achieved, with the former national busking champion now instantly recognised in public and thousands of Australians downloading her performances on iTunes each week.
Lucy's fate will be decided by votes from the Australian public live on air next Sunday night.
Lucy Sugerman will perform in The Voice grand final against Fasika Ayallew, Hoseah Partsch and Judah Kelly from 7pm next Sunday July 2 on Channel Nine. Streaming Lucy's The Voice performances on iTunes at any time also counts as votes. Find Lucy on iTunes here.
Bree Element is the life and entertainment editor at The Canberra Times