Greg Prince Memorial National Sheep Dog Trials 2018 begin at Hall Showground
It was like a scene out of Babe, but with fewer spectators and no pig.
Baa-ram-ewe. Baa-ram-ewe.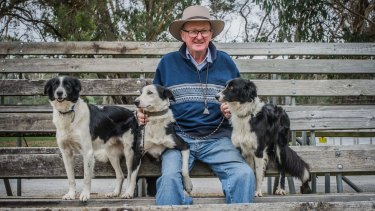 Horace the sheep dog weaved around the sheep, directed by his handler Tony Whitehead, and herded them across the field, through the fence and up the bridge.
It may look like fun and games on the sidelines, but sheep dog trials are highly-competitive and challenging to competitors.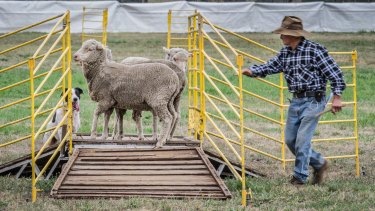 More than 50 handlers and 200 dogs from across the country will compete in the 75th Greg Prince Memorial National Sheep Dog Trials held in Canberra this week, with the competition starting on Wednesday.
President of the National Sheep Dog Trial Charlie Cover said the annual event was considered one of the "major sheepdog trails in the country".
"It's a fascinating insight into Australia's rural life, it's about team work with man's best friend and this year we're celebrating a pretty big year this year.
He said the event, which started in Canberra 75 years ago, was first held at Manuka Oval.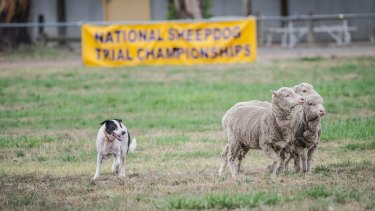 "You'll find this hard to believe, but it really started there," he said.
"Could you imagine getting the sheep dogs on Manuka Oval today?"
From there the event was moved to the Hall Showground about 50 years ago.
Dogs are classified in two groups: "novice'" for dogs that haven't competed before and "open trial" for experienced dogs with the finals held on Sunday.
Mr Cover said each competitor started with 100 points and 15 minutes to complete the course. He said points were deducted whenever the sheep were "off course" or when the dog loses control of the sheep.
Competitors travel from across the country, including the Northern Territory, Queensland, the ACT, NSW and Victoria.
He said this year's event was significant because more than 40 per cent of handlers were women in what has historically been a male dominated event.
"It is absolutely unusual and certainly a record for this trial," Mr Cover said.
"I'm positive it's a record for Australia and I suspect - only judging by photos - I suspect the world record.
The event was renamed the Greg Prince Memorial National Sheepdog Championship in memory of Mr Prince, winner of a record 16 national sheep dog trials.
The event is held at the Hall Village Showground until March 19 and is free during weekdays. Dogs on leads are welcome.
For more information visit: www.nationalsheepdogtrials.org.au
Han Nguyen reports on property for The Canberra Times. She joined the Times in 2017 after working as a breaking news reporter at The Sydney Morning Herald.