Half of Canberrans support light rail expansion: union poll
Roughly half of Canberrans support the expansion of the city's light rail network from Civic to Woden, a new poll commissioned by the trade union movement found.
The UnionsACT poll of 2044 people found 51.5 per cent supported the second stage of the light rail project, 41 per cent were against it and 7.5 per cent were undecided. The poll had a margin for error of 2.2 per cent, the union said.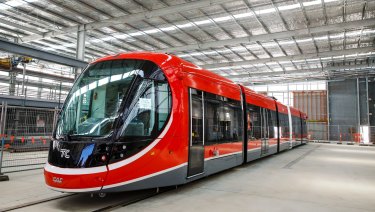 The question about light rail was part of a wider automated phone poll of ACT residents conducted by Brisbane firm Reachtel Research on March 16.
The union would not release data on any of the other questions, but it is understood respondents were asked eight questions in total. They included how concerned respondents were about the integrity of the ACT government, whom respondents would vote for if there was an election today, and whether the territory was heading in the right direction.
The results released by the union reveal support for stage two of the light rail project among undecided voters, with 49.2 per cent in favour of the Civic to Woden extension and 33.4 per cent against it.
ACT Labor voters were overwhelmingly in favour at 80.9 per cent, while 73.9 per cent of Greens supporters backed the project. Just 28 per cent of Liberal voters said they wanted the expansion to go ahead.
UnionsACT secretary Alex White said the survey showed the importance of the light rail project to Canberrans, and blasted ACT Senator Zed Seselja.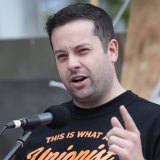 Senator Seselja, a former ACT Liberals leader, in February said he would push for stage two to be referred to a federal parliamentary inquiry to ensure Canberrans were "getting bang for their buck".
Stage two will need to be approved by both houses of federal parliament because the route traverses Commonwealth land as it travels from Civic to Woden.
"By referring the construction of light rail stage two to a federal parliamentary inquiry, Senator Seselja appears intent on sabotaging hundreds of local jobs," Mr White said.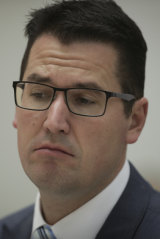 "Sadly, it appears that Senator Seselja and his counterparts in the Assembly have only a single vision for Canberra, which is to destroy jobs and wreck our local economy."
Despite telling The Canberra Times in 2015 that the city's light rail project was "a dud", Senator Seselja hit back at Mr White by saying he had never said he opposed stage two.
"As a mouthpiece for ACT Labor, UnionsACT may not care whether Canberrans get value for $1 billion of their taxes, but I do," he said.
"I haven't said that I oppose stage two, but I do want to ensure Canberrans have their say on the best route for the light rail and get the best value for their money, given they are footing the bill for the project."
The ACT government has committed initial funding to stage two of the project, with $53.5 million invested in last year's budget.
Work on stage one, a 12-kilometre corridor from Gungahlin to Civic, is scheduled to be finished this year, with testing on an electrified track set to start this month.
Blake Foden is a reporter at the Sunday Canberra Times. He has worked as a journalist in Australia, New Zealand and the UK.