Harmony Day: Canberra schools celebrate diversity every day
Alicia Thomas, the 11-year-old student leader at Charles Weston School in Coombs, likes that her school accepts the dozens of different cultures within its population.
The school's 260 students represent 49 different countries and almost half speak English as an additional language.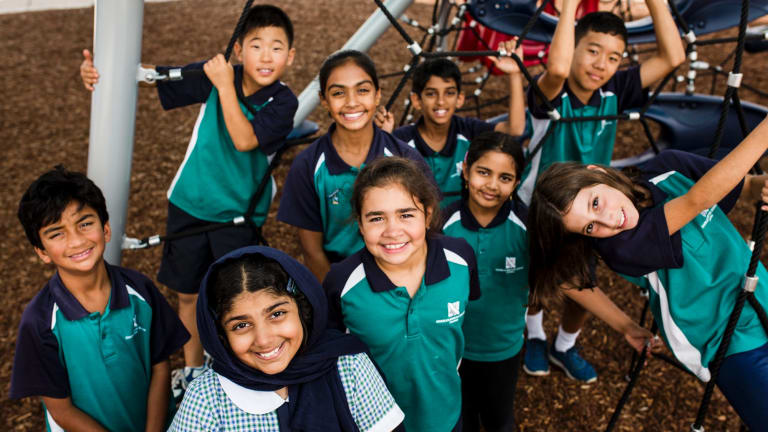 "If you just look, a lot of the community is really inclusive," Alicia, who speaks Malayalam​ as well as English, said.
"It doesn't matter where you're from, they include you how you are."
Harmony Day gives cause to celebrate, but schools throughout Canberra recognise and honour the ACT's diverse population every day of the year.
Charles Weston School principal Kate McMahon treats her students and their families with respect and actively fosters a culture of inclusion.
"It's something we're really proud of at this school, that there is so much diversity," she said.
The school isn't just proud, it's proactive. Parents can access an online closed community called Seesaw, similar to Facebook, where teachers communicate messages to students' homes. The app allows for translation into different languages and uses visual cues like clocks instead of relying on written English.
A mother tongue language section is featured in the library. In the classroom, teachers find ways to weave in students' own experiences with the Australian curriculum while accepting that sometimes kids work better in their first language.
"Working in Canberra schools, you get to acknowledge that kids are OK to research, discuss and learn in their own language, and we have to be open to that difference," Ms McMahon said.
"We can't be afraid. We need to embrace it and learn from it."
Nearby, at Alfred Deakin High School, students are similarly encouraged to showcase their learning in a way that best utilises their strengths.
"For some kids who are strong media students, they might present evidence of their learnings in science in a media format," principal Belinda Bartlett said.
"It doesn't preclude that kids still need to learn how to write a lab report, but not all assessment in science has to be done through the written work. It might be done through writing poetry, it might be done in a play, it could be performing some aspect or drawing or painting or sculpting a response."
The shift to a strength-based agenda was driven by a request from the students. Diversity in all its forms is celebrated: about 500 of the 900-strong student body's parents were born outside Australia, and 67 different languages are spoken at home.
A "significant number" of students identify as LGBTQI and the school supports those students by providing toilets marked with colours instead of gendered figures.
The school also follows a dress code rather than uniform to better allow the teenagers to express themselves.
Ms Bartlett said the school's focus on inclusion and celebration paid off.
"I think what you find at Deakin is a climate of no judgement," Ms Bartlett said.
"We are a school that has low incidences of bullying or harassment reported - that's not to say that we don't have it - but part of that is because we do openly celebrate diversity."
At Lake Tuggeranong College students are already grappling with the challenges brought by the later teenage years.
School principal Julie Murkins said these issues paired with cross-cultural expectations were the biggest challenge for schools teaching older children. About one-third of her students at the school speak a language other than English and the school's population represents up to 50 different cultural backgrounds.
Ms Murkins uses the three Cs - broadly, appropriate curriculum, a warm school culture and celebration of achievement - to help students succeed.
"The motto that we try to run is we want the students to be happy and well and the success will flow from there but that's a hard ask when you're working with families," Ms Murkins said.
"Their view of what the purpose of the education is can sometimes put even more pressure on the young people, but that's across all cultures."
When asked what Australia could learn from other cultures, Ms Murkins referred back to the concept of a fair go.
"I think it's about taking an appreciative view," she said. "At the end of the day it's humanity."
Emily Baker is a reporter for the Sunday Canberra Times. She previously reported on education for The Canberra Times.