Heat wave tipped to continue
CANBERRANS sweltered through the capital's hottest day since 2009 on Saturday as temperatures broke through the 40 degree mark.
The capital reached a withering 40.1 degrees shortly before 5pm, smashing the predicted 37 degrees, according to meteorologist Rebecca Kamitakahara.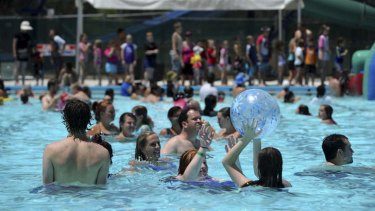 "We'd have to go back to 2009 [to see these temperatures]," she said.
Ms Kamitakahara said the hot conditions were produced by a large pool of hot air above most of southern Australia, with hot and dry air being pulled down from the interior of the country. The outlook is set to remain warm over the coming days, with tops of 37 before rising to 38 on Tuesday.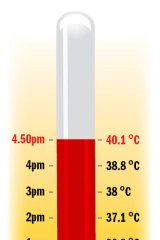 "To Friday, it's not dropping below 30 degrees," Ms Kamitakahara said.
Temperatures also soared across the border with Young peaking at 39.9 degrees while Wagga Wagga reached a searing 42.6 degrees.
The Riverina town recorded no hospital admissions for heat-related injuries and is expected to reach temperatures as high as 43 degrees on Sunday.
The fire danger rating for Canberra and its surrounding regions remains very high, with conditions expected to worsen in the coming days.
People should use the time to prepare for the intensified fire conditions expected on Tuesday, NSW Rural Fire Service spokesman Inspector Ben Shepherd said.
"There is a possibility we will see extreme, if not severe, fire danger in some areas," he said.
"People need to use this time to ensure they are prepared."
People are also urged to stay hydrated and limit physical activity as the forecasts remain high, as well as keep tabs on elderly friends and neighbours.
But there was no limiting physical activity at the Big Splash Waterpark, which officially opened its new $1.5 million set of slides in Macquarie on Saturday.
With the slides now cleared by the ACT Government after a seven-week delay, Big Splash owner Ron Watkins is predicting a boost in business.
"People are thoroughly enjoying it," he said.
"The new rides have had a wonderful impact."
Mr Watkins was expecting up to 2000 people though the doors on Saturday as word spread about the second-hand slides, shipped down from Queensland's Wet 'n' Wild attraction.
While a top of 37 degrees is predicted for the capital on Sunday, the Bureau of Meteorology also issued a severe thunderstorm warning overnight for Tuggeranong, South Canberra, Weston Creek, Woden Valley and Hume.