'Historic moment' as Mr Fluffy house demolished
A Mr Fluffy house in Woden was demolished on Tuesday, signalling the start of what could be a wave of demolitions across the city.
Work Safety Commissioner Mark McCabe conceded a ''growing view'' that the remaining Mr Fluffy houses – up to 1000 of them – were likely to be demolished. But he stressed: ''I don't think we've reached that point yet'' with many issues to be worked through.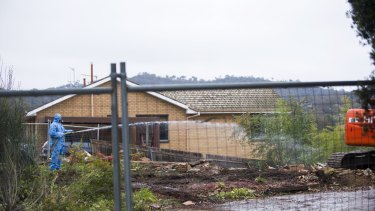 The brick house in Woden was demolished privately by the owners, who did not want to be named, but said they had to go to ministerial level for approval.
The $80,000 cost of the demolition sets an indicative price, and while much more than a standard demolition, it is considerably less than the $2 million to $3 million spent to buy and take apart the Downer house last year. The Downer house had extensive contamination and was ''bubble wrapped'' during demolition.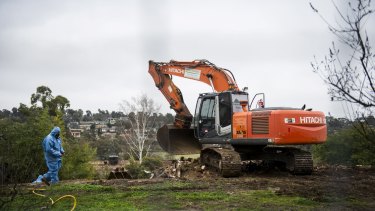 The Woden house was one of more than 1000 homes from which asbestos was removed 20 years ago. Asbestos has now been discovered in the walls and subfloors.
Before demolition, the internal walls were removed and remaining asbestos vacuumed out, Mr McCabe said. The surfaces had been sprayed so no fibres would be released during demolition.
On Tuesday morning, the shell was simply pushed over in a demolition that was all but complete by 9am, with the site only to be cleared and soil removed. The work was done in the open, with onlookers simply told to stand on the other side of the street.
Mr McCabe said the demolition was ''a big step forward'' for the Mr Fluffy crisis. The asbestos taskforce and Worksafe had ironed out procedures, setting a precedent for future demolitions.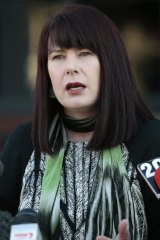 The owners of the Woden house, who have lived there for 12 years, said it was sad to watch their house come down, but a step forward.
''We can move forward and have a house that's safe to live in,'' they said.
The family belongs to the Fluffy Owners and Residents Action Group, whose spokesperson, Brianna Heseltine, said it was a historic moment.
''For our group this is monumental,'' she said. ''It's really historic for us because if you could see the sea of people wanting this outcome for our houses... ''
Housing Industry Association regional director Neil Evans said demolishing a standard, three-bedroom, single-storey, brick-veneer home (without asbestos) would cost between $10,000 and $20,000. The $80,000 cost in Woden, while considerably more, still seemed ''not too bad'' in the circumstances.
''Given how severe the problem is, it's not a lot of money and you don't have that question mark hanging over your head. Have they got it all? Are there ramifications down the track?'' he said.
It was impossible to know what other demolitions would cost, with costs dependent on what precautions were needed.
''If it's in a good street and a good inner suburb, with a new house on that land, you could recoup that $80,000 probably without too much trouble because they are big blocks and it's the land that's worth the money, not the house,'' he said.
Mr Evans said demolishing the homes was ''an absolute way of getting resolution''. ''If you could knock them down, that would be the way to go.''
Master Builders Association ACT director John Miller said $80,000 was at the higher end of what he had expected, but safety was paramount.
''It's more than just the simple demolition of all the homes, it's the emotions of the people involved. For some it will be an easy choice saying, yes let's just get rid of it. For others it won't be so easy. But the important thing is to make this is as safe as possible for everybody.''
There were just two clear choices in a ''terribly difficult situation'', he said.
''We either agree that they're safe in situ, or we go to a situation where we make that offer to knock down,'' he said.
In April, Attorney-General Simon Corbell dismissed a call for demolition of Mr Fluffy houses, saying it would be prohibitively expensive and ''simply not possible'', based on the costs in Downer. But the ACT and federal governments are now considering the move.
The ACT government taskforce is preparing to send assessors and repairmen into homes to check for asbestos fibres in living areas and to seal and clean cornices to keep fibres falling into living areas. The plan is to make the houses safe to live in for now while decisions are made.
Taskforce head Andrew Kefford said assessors were not checking wall cavities and subfloors, but were assuming asbestos was still there, given the findings of assessments to date.
He said each house was different in construction and contamination and the cost of demolition could not be extrapolated from the Woden home. Plus, demolition was just the start of replacing a home.