Hopes for Enlighten record not dampened by forecast rain
Organisers are optimistic Enlighten can draw a record number of visitors this year, despite forecasts of rain for the second half of the week.
Now in its fourth year, the festival involves prominent Canberra buildings illuminated with brightly coloured, patterned lighting and features cultural events on Friday and Saturday night for two weeks.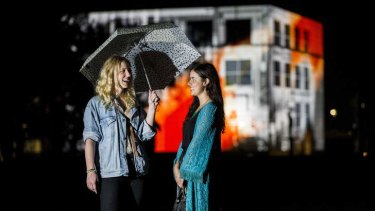 Neale Guthrie, general manager of venue and event services for the ACT government, said staff thought attendance figures on Saturday night were slightly up on Friday, despite rain during the evening.
He declared Friday night was the most popular opening night on record for the festival but would only rate Saturday night as a strong turnout.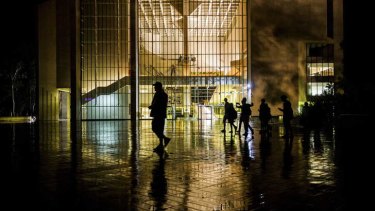 The festival involved indoor ticketed events as well as the outdoor lighting projections.
Last year 115,030 people attended free and ticketed events and entertainment spaces.
Mr Guthrie said he was optimistic Enlighten could reach its goal of beating last year's attendance figures.
He said the second weekend of the festival was always more popular than the first as people who had already attended spread the word.
"[Heading into] the second night last year, 12 degrees was the maximum temperature during the day, so it was pretty cold weather and it was threatening rain … it just happens with these outdoor events, you've got to take the good with the bad," he said.
The Bureau of Meteorology is predicting a warm week for Canberra with temperatures into the high 20s nearly every day, but rain is predicted for Thursday, Friday and Saturday.
Mr Guthrie said Enlighten's architectural projections would be on display every night of the week.
He said it was still possible to register for Diner En Blanc, a picnic in a surprise location for which diners must wear white, head to toe.
Larissa Nicholson is a journalist at The Age.