How to take the best fireworks pictures at Skyfire
With Skyfire coming up fast, keen shutterbugs will be on the lookout for tips to get that cracker shot. The bad news is that no two firework displays are the same, so there is a degree of trial and error involved.
The good news is that one doesn't need fancy equipment to come away with spectacular fireworks photos, you just have to be prepared to shoot on manual settings for the best results.
Here are some tips to get you started:
Stability
Fireworks are generally shot at slow shutter speeds, so a tripod is ideal to ensure that your images don't suffer from motion blur. At a pinch, put your camera on a stable surface such as the ground. Prop something like a wallet under your lens to aim your camera skywards.
Composition
Consider framing your photos so that the fireworks are shown in context with the surroundings rather than in isolation. Including people will also add an interesting element to what can otherwise be two-dimensional photos.
Focusing
Turn off autofocus and manually focus where you think the fireworks will be. You can also autofocus on the first burst, and then switch to manual focus.
Exposure
Exposure settings are perhaps the trickiest thing to get right. The brightness of the sky will be constantly changing, so there is no one setting that will work all the time. Instead, aim for the maximum number of keepers by adjusting the settings as the display progresses.
As a start, set your ISO quite low, either 100 or 200. If the images are consistently turning out too dark you can increase this.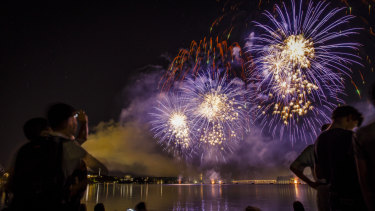 Set your aperture to somewhere between f/8 to f/16. I find myself adjusting the aperture a lot because there will be moments where a whole cluster of fireworks go off at once making the scene extremely bright. In this case, I dial the aperture down towards f/16 until my results look right.
Towards the end, they almost always let off a whole bunch at once so I anticipate this and adjust my aperture down. If there are relatively few bursts, I'll open my aperture towards f/8 or brighter until things look right.
As a guide, set your shutter speed between two to six seconds. The shorter speeds will give you images with sharper bursts, while the longer speeds will capture the whole arc of the firework and allow you to capture more of them.
You can also use the bulb mode if your camera has one. The shutter will stay open while you keep the shutter pressed down, so you can start the shot when a sequence of fireworks starts, and let go when you think you have captured the number of fireworks you want.
Follow Sitthixay on Instagram at @wakeupsitt. Follow The Canberra Times and share your pics using #canberratimes
Sitthixay Ditthavong is a photographer at The Canberra Times.