Hundreds gather at Fitters Workshop in Canberra to farewell designer Robert Foster
A creative visionary. An astonishing artist. A devoted father. A "jackhammer made of feathers".
These were among the phrases used to describe Robert Foster, the artist, designer and pillar of Canberra's artistic community, who died tragically last week at the age of 53.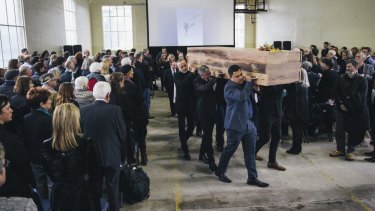 Hundreds gathered at the Fitters Workshop in Kingston on Friday to farewell the man whose singular artistic vision not only spawned a range of internationally renowned homewares, but also inspired a generation of makers and artists.
Outside, the rain beat against the windows and wind whistled through the rafters, but you could have heard a pin drop as the bespoke casket – handmade from recycled timber and aluminium by a group of artist friends – made its way to the front of the room.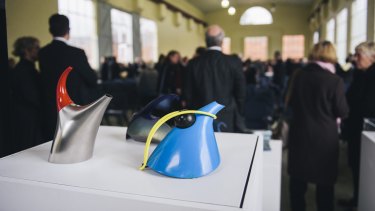 But silence soon gave way to applause, laughter and sighs of recognition and regret, as speakers detailed Foster's academic, professional and family life, his achievements, adventures and love of pyrotechnics.
With intense focus and a prodigious work ethic, Foster created the F!NK brand, fulfilled an artistic vision and brought many people along with him.
From his partner – in life and business – of 23 years, Gretel Harrison, and daughters Ineska and Mischa, to the many artists and designers he mentored, employed and inspired, Foster was a towering figure who was nevertheless affable and generous, hard-working and wholly without ego.
National Gallery of Australia curator and family friend Lucina Ward remembered being in awe of Foster when she first met him at art school, but the awe "soon turned to admiration…as we realised what a thoughtful and modest person he is".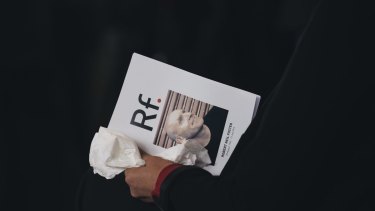 "He aimed to make everything around him more beautiful, more useful and more surprising," she said.
Head of the ANU School of Art, Denise Ferris, described his unstinting loyalty to the institution where he learnt his craft, while artist Sean Booth spoke of Foster's boundless generosity as a mentor – the faith he had in his staff and students, and his ability to harness the creative energies of those around him.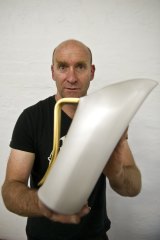 He also showed his team how to balance work, community and family to lead a satisfying life; despite a prolific artistic practice, he still managed to run a thriving business and spend time with family, friends and neighbours.
Friend Hamish Thompson, whose speech was read out by National Museum of Australia's Ian Coates, marvelled at Foster's bespoke approach to life, his love of "anything even mildly industrial", and his scarred hands, that were "a palimpsest of industrial accidents and digital near misses".
Despite his boundless energy, he also had "the most remarkable, calming poise and huge reservoirs of emotional intelligence".
Younger daughter Mischa giggled as she remembered making fun of his bald pate and bushy eyebrows, painting his toenails red when he wasn't looking, and the fact that he could dance "even though he was 50".
And his mother, Roberta Foster, recalled the "blonde, blue-eyed and mischievous boy from Bendigo", who was destined for greatness from the moment his parents dropped him off at ANU in 1981 to begin his silversmith course.
"None of us imagined the impact he would on the creative world of Australia," she said, and ordered the remaining F!NK team to "keep that flame burning brightly".
The Capital Arts Patrons Organisation (CAPO) has established the Robert Foster Memorial Award to commemorate the contribution Robert Foster has made to the arts community for the past 30 years. For information on how to donate, visit capo.org.au.
Sally Pryor is a reporter at The Canberra Times.