'I do not want Peppa Pig to not be on TV' - five-year-old's plea to Malcolm Turnbull
A five-year-old girl has written a letter begging for Peppa Pig to not be cancelled, saying if the popular ABC children's show is taken off the air her "sister will be sad".
She didn't have to wait long for an answer either - communications minister Malcolm Turnbull himself wrote back four days later to let her know Peppa was here to stay.
Tess's mother Leonie Campbell said her daughter had written the letter to the Canberra Times after being horrified to hear funding was potentially being cut for the program when she saw a cartoon of Peppa Pig in the paper last Friday.
Concerns were raised about the future of the popular UK children's program when ABC Managing Director Mark Scott said he couldn't guarantee it would be safe from budget cuts during a senate estimates hearing last week.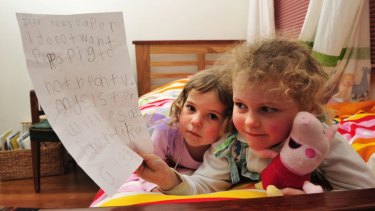 "She was very upset and I said would you like to do something about it? What would you like to do?" Ms Campbell said.
"And I said, would you like to write to the paper and she said yes. I had to help her with the spelling but it's all her own words."
"Dear newspaper," Tess wrote.
"I do not want Peppa Pig to not be on TV. My sister will be sad. I do not like Giggle and Hoot."
Ms Campbell said Tess and her sister, two-year-old India, watched Peppa Pig almost every day, although there was some debate about who was the best character.
Tess said her favourite was George, although India said she preferred Peppa.
Federal communications minister Malcolm Turnbull wrote back to Tess on Tuesday after hearing about her letter, re-assuring the five-year-old that Peppa Pig wasn't going anywhere.
"Dear Tess, I love Peppa Pig too. More importantly our little grandson, who is only nine months old, is bound to be a Peppa Pig fan too. So Peppa and her friends are safe," Mr Turnbull wrote.
"PS (this might be for your parents), our efficiency study of the public broadcasters is designed to find savings in back of house operations without cutting into programming - including Peppa!"
Ms Campbell said she appreciated Mr Turnbull's response to Tess.
"As a parent, the ABC is a quality children's broadcaster and you rely on it. People from all walks of life enjoy it," she said.
She said her daughter would also be sad if Peppa Pig were taken off the air, but had been primarily worried about her sister.
"She just cares about things and she's interested and she's serious," Ms Campbell said.
"I hope she'll always be interested in what's going on in the world."