'If you like maths, it's easy to enjoy test'
Eager students of Weetangera Primary School did not hesitate to volunteer for the 35th annual Australian Mathematics Competition yesterday, saying the test was both fun and challenging.
Bright-eyed year 3 students Jasmine Sun and Ellen Vahey exchanged grins and said, ''it helps if you like maths, it's easy to enjoy doing the questions''.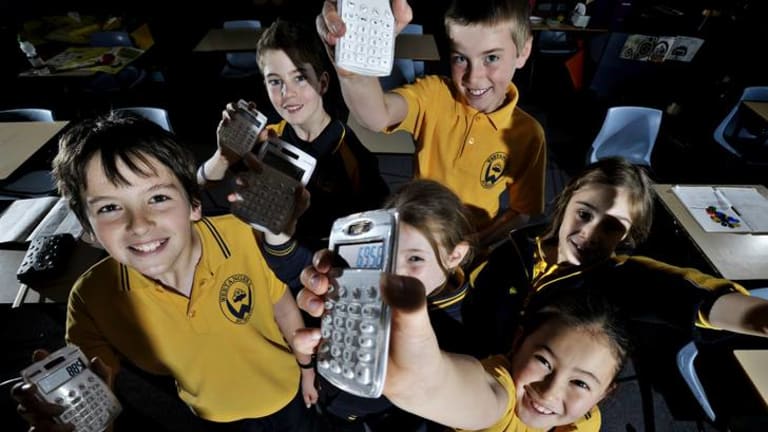 Year 5 students, Isaac Martin and Piers Flook, both found the test an enjoyable challenge, especially when they were required to solve word problems.
''Yeah, with word problems what I try to do is … first try to figure out what it's asking me to do,'' Isaac said. ''Then I apply the algorithm. I volunteered for this test, plus the English and science one too.''
The principal of Weetangera Primary School, Phil Gray, was happy to hear his students enjoyed participating in the competition and were not afraid of a good mathematical challenge.
''Children love to challenge themselves,'' he said. ''We've been involved for a number of years in the AMC and it's terrific for our years 3 to 6 - they love tough questions.''
Stephanie Bray, year 4, is a fan of the tough questions and enjoys the whole experience.
''It was fun to try and work the questions out,'' she said. ''My favourite thing to do in maths is times tables and hard addition questions.''
Mr Gray said the results of the AMC allow teachers to gain a better understanding of their students' mathematical ability.
''The results indicate how our students are progressing. As an assessment tool it's terrific. It allows us to recognise if there's any gaps in their knowledge they need help with, and we can identify a number of shining, talented kids.''
One of the older volunteers, year 6 student Robbie Aspinall, said he enjoyed the maths test and thought it was a challenging, but fair, experience.
The executive director of the not-for-profit Australian Mathematics Trust, Professor Peter Taylor, said the AMC is designed to test a student's normal classroom skills, their ability to adapt to new situations and use known mathematics to solve problems in a new context.
Primary and secondary school students have some time to wait until they receive their AMC results. There are more than 1,100 prizes and 60 medals for the best and brightest students, and the outstanding students both within their state or country will be presented with their awards by the governor of Victoria.