A Canberra business group has welcomed the arrival of flat-pack furniture giant IKEA into the ACT, describing it as a 'great result' for the territory.
The Swedish flat-pack furniture giant will soon join the list of big-name retailers that are giving the capital's shopping scene a much-needed boost.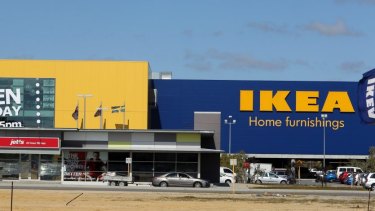 Ikea has sealed an agreement with the ACT government to build its behemoth retail outlet opposite Canberra Airport and has even hired a construction firm to build the store.
ACT Chamber of Commerce and Industry chief executive Andrew Blyth said the news sent a massive signal that investing in Canberra was the right way to go.
"What we'll see now is people from Albury making their way up to Canberra and not having to go to Sydney. They'll make a weekend of it and the benefits will flow through," he said.
"There's no doubt that the Canberra economy is going through something of a volatile time and that will continue with what's being talked about in the budget.
"But the fact is that IKEA are setting up a significant operation here in Canberra and it sends a clear signal that Canberra is the place to do business in."
The territory government and the retailer remain coy about the store, which will be built at the new retail park, the Majura Parkway Estate, but an official announcement is expected within days.
The Canberra Times first revealed in August 2013 that the ACT and Ikea were in talks about a shop in the new retail warehouse precinct, with the government subsequently moving to amend planning laws to allow the furniture mecca to go ahead.
Commercial sources around Canberra have confirmed the agreements have been signed to sell the 7.6-hectare site. Ikea has already hired an unnamed interstate construction outfit and is keen to get on with the job.
The deal, which is yet to be officially confirmed, will be seen as another economic dividend for the city from the $288 million Majura Parkway road project, which will deliver shoppers to the retail park from Canberra's north and south.
It will be the first time the global brand has opened in an Australian city with a population of less than 500,000 and will represent another step in Canberra's retail renaissance after the recent arrivals of US grocery discounter Costco, Spanish-style chain Zara and US computing giant Apple.
The Swedish retailer has more than 260 shops in 25 countries, and has transformed the furniture trade in many Western nations with its promise to bring Scandinavian design to consumers at modest prices.
Ikea has massive retail warehouses in Sydney, Brisbane, Melbourne, Perth and Adelaide.
Canberra Airport had been trying to woo Ikea to its retail park for several years. The park already houses Costco and Australia's largest Woolworths outlet, but is understood to be enthusiastic about the presence of the furniture giant.