Residencies for artists are an integral part of the life of arts organisations. They are an excellent way to foster both artistic and practical communication between local and international art practitioners. Artists can use residencies to explore their own work in a new environment and in addition conduct workshops for students and fellow artists.
All the ceramicists in the Air: 3 in 18 exhibition have had residencies with the Canberra Potters Society at the Watson Arts Centre. Chris Dunn and Peter Scherzer's residencies were earlier this year while Srinia Chowdhury is the current-artist-in residence.
Chris Dunn is an established ceramicist working in Wellington, New Zealand. While at the Watson Arts Centre he shared his interest in ceramics that are fired at low temperatures in kilns made in pits, garbage tins or barrels using traditional firing techniques.
Dunn wraps his unfired pots in organic materials like banana skins and corn husks. He then adds various natural materials such as seaweed and sawdust as well as minerals like copper sulphate and salt to the kiln before firing. This alchemy ( called chemiflouresence) produces on the surface of the pot free flowing areas of colour and a variety of random markings. These effects can be somewhat controlled by experience but the end result is always a revelation. The burnishing of the pot before firing to smooth its surface and the rubbing of wax into it after firing gives its surface a shine and enhances the subtle nature of the colourings. Dunn's pots in this exhibition are wheel thrown and their pleasant traditional forms provide an empathetic surface for the magical effects these firings produce.
In After Midnight  the sawdust in the firing produces dark markings that contrast with the more delicate grey tones. In Red Planet  it is the burnished colours of reds and browns that swirl around the form of the pot creating an impression of astronomical worlds in space. Dunn sees this visual link with natural phenomena as being in sympathy with the markings on his pots that are made by natural materials and born of fire.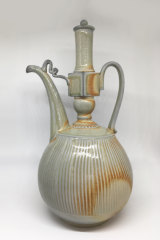 Peter Scherzer has an established career as an artist and academic in the United States. He now lectures in ceramics at the University of Hawaii. During his Canberra residency,  Scherzer experimented with low temperature soda firing. His work in the exhibition is very eclectic drawing its motifs from many varied sources including Middle Eastern metal work and ceramics. His work is wheel-thrown then constructed into complex forms using different geometric elements, impressed floral designs and graceful flourishes in handles and spouts. The works are glazed simply in a celadon coloured glaze with rubbed effects of the red clay beneath. In Ewer  the form and its decoration references a Middle Eastern ewer made originally in metal. The slim form in Vase  is more restrained with references to traditional urns. Scherzer's works are skilfully and artfully made. I am drawn however more to those works in the vase series where the forms are not so contrived and are graceful and eloquent.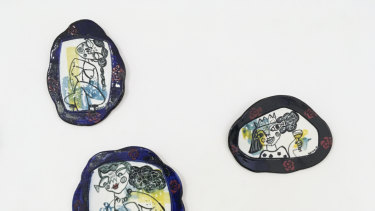 Srinia Chowdhury who is from India has a background in sculpture and illustration although she now also works in ceramics. Her series of small wall plaques Living My Sweet Reverie are part of a body of work that looks at contemporary life. Chowdhury targets in particular the concept of the moral `police' and the traditional taboos that constrict a woman's behaviour in the twenty first century. Using her own graphic illustrations on the blue bordered plaques, her images of contemporary women drawn in modern attitudes signals her dream for a less restrictive life style in India as well as elsewhere.
Ken Naki is from Vanuatu. In 2014 well-known Australian potter Alastair Whyte established a cottage industry pottery on Malekula Island, Vanuatu. The exhibition shows some of the work from this pottery by Ken Naki who was one of the potters mentored by Whyte. All the proceeds of the sale of these works will go back to the village.
The exhibition comes with some interesting wall text explaining the influence of traditional motifs and practices in these contemporary Malekula ceramics - in particular the motifs created by a form of sand drawing made by using two fingers to draw a continuous line design. Traditional motifs used on the pots are also found in the decoration of tapa cloth and baskets. The influence of the Lapita pottery from an earlier ancient Pacific culture (ca 1500-500 BC) is also a formative influence. Ken Naki's green and blue dishes with their cross leaf decorations are particularly attractive. His long cylindrical forms with sculptured ancestral faces are very distinctive and resonate with a sense of cultural identity.
Air: 3 in 18: ceramics by Srinia Chowdhury, Chris Dunn and Peter Scherzer and Ken Naki. Watson Arts Centre. Until August 12.