Doctors Stephen Hawking and Sheldon Cooper appeared to be the only significant absentees from the launch of a $30 million-plus instrumentation and technology centre at Mount Stromlo on Tuesday.
Built at a cost of about $25 million, the second stage of the Advanced Instrumentation and Technology Centre has the only piece of kit this side of the equator that can create space-like conditions on earth.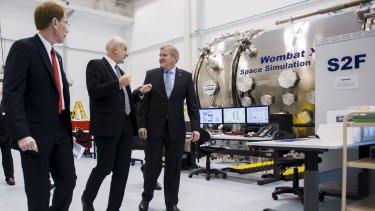 The Kenworth prime mover-sized ''space simulation facility'' (aka the Wombat XL) cost $3.9 million on its own and can create micro-environments with temperature extremes between -170C and up to 150C.
It can be used to test objects weighing half a ton in a near perfect vacuum.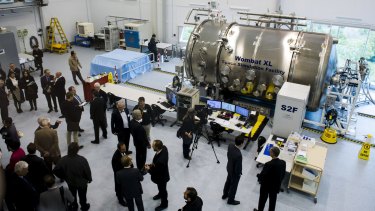 The Wombat is one of an impressive armoury of devices which are already being used to design, test and manufacture telescope parts, prototype space drives and even small satellites.
The launch was performed by Federal Industry Minister Ian Macfarlane, who cited OECD figures stating the value of the global space economy was about $304 billion in 2012 and that satellite navigation and imaging systems made major contributions to Australia's GDP.
''This [the AITC] is not just an expanded centre,'' he said. ''It is an enhancement of a significant national capability.''
The AITC is part of a suite of space-related facilities and enterprises under the control and management of the Australian National University through the Research School of Astronomy and Astrophysics, ANU College of Physical and Mathematical Sciences.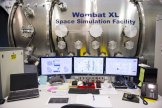 Its treasures include clean room facilities complete with their own two-tonne crane, a plasma chamber, vacuum oven and a ''thermal cycling chamber''.
The anechoic chamber is designed to suppress radiation rather than sound and does such a good job no residual or environmental electromagnetic waves can interfere with the devices being tested within.
Conversely, it is quite possible to generate significant levels of electromagnetic radiation without risk to people on the outside.
Research school director Matthew Colless said the launch marked the culmination of ''a monumental project'' and that AITC had already delivered on five major research grants.
One of the most remarkable of these has been research by Christine Charles into a plasma jet that may one day power spacecraft into the outer reaches of the solar system.
While the initial plan is to use Professor Charles' ''Helicon Double Layer Thruster'' to guide redundant communications satellites to their final doom, there are high hopes the device may reach out to infinity and beyond. ''It will work forever as long as you have propellant gas,'' Professor Charles said in one recent report.
The most exciting work on the AITC's immediate agenda is making parts for the Giant Magellan Telescope, being developed on an isolated mountain top in Chile.
A linked array of seven superbly engineered mirrors fitted with adaptive optics, the multinational $1 billion GMT will have an effective aperture of 24.5 metres or about 10 times that of the Hubble Space Telescope.
Harvey Butcher, the director of the research school from 2007 until last year, said the GMT had the capacity to redefine humanity's view of the universe and may assist in the search for life on other worlds.