Inquest into death of British cyclist Mike Hall to be heard in Canberra
A Canberra court will hear an inquest into the death of a world-renowned British cyclist during a coast-to-coast race earlier this year.
Mike Hall, 35, was killed early on March 31 after a fatal collision with a car south of Canberra, at the intersection of the Monaro Highway and Williamsdale Road.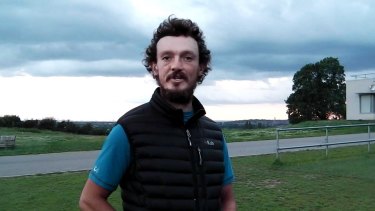 He was competing in the Indian Pacific Wheel Race, an unsupported, solo ride covering nearly 5500 kilometres from Fremantle to Sydney, that crosses the Nullarbor Plain then passes through Adelaide and Melbourne.
Mr Hall was one of 70 riders who set off from Fremantle on March 18.
Organisers cancelled the race after Mr Hall's death.
When Mr Hall's dot on the official race tracker stopped at 6.52am, he had ridden 5024 kilometres in about 12 days - averaging more than 400 kilometres a day.
He has won one of the world's longest mountain bike races, the 4400-kilometre Tour Divide from Canada to Mexico across the Rocky Mountains, and the world's longest road bike race, the 29,000-kilometre World Cycle Race.
At a directions hearing in the ACT Coroner's Court on Monday, Coroner Bernadette Boss invited any interested parties to seek leave to appear at the inquest.
Only the territory government answered the call, and Dr Boss gave the representative leave to appear.
The race organisers did not seek the coroner's leave to appear at the inquest, and it is not yet clear whether or not they will participate.
Ken Archer, counsel assisting the Coroner, told the court on Monday he had been in contact with the race organisers, and he noted there may be matters that arise that were "relevant to their interests."
In October, the organisers told Fairfax Media that the race would go ahead again in March despite Mr Hall's death.
They said riders would need to pass a safety check and be required to have two front and two rear lights, a rear red reflector, reflective ankle straps and reflective tape on their bike's crank arms and seat stays.
They will also be required to wear a reflective vest and have their lights on between 4pm and 8am and when visibility is poor.
No criminal charges have been laid in relation to Mr Hall's death.
The inquest returns on February 6 for further directions, and to set down a timetable for the inquiry.
Alexandra Back is a reporter with The Canberra Times