Inspector-General of Intelligence and Security launches recruitment drive to monitor ASIO
The Inspector-General of Intelligence and Security has launched a recruitment drive to strengthen her office's ability to oversee a raft of new powers granted to the Australian intelligence community earlier this month.
The Inspector-General of Intelligence and Security, Dr Vivienne Thom, said the recruitment drive was initiated after amendments to national security legislation passed the House of Representatives on October 1 and after the Prime Minister increased the resources of her office in August.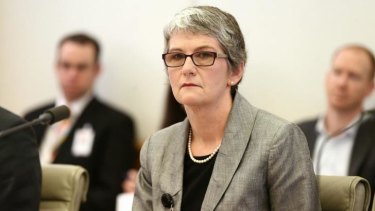 The amendments detailed in the National Security Legislation Amendment Bill (No. 1) 2014 grant Australian spies the power to monitor the entire Australian internet with just one warrant and could see journalists and whistleblowers jailed for up to 10 years should they disclose information about an ASIO "special intelligence operation".
Do you know more? Send your confidential tips to ps@canberratimes.com.au
According to the job description, new IGIS recruits will assist inspections "largely focused on the use of intrusive powers by Australian intelligence agencies" including ASIO search warrants and telecommunication interception powers.
"A significant function of the work of the office is to conduct inspections of the operational activities of intelligence agencies as well as undertaking specific projects or targeted reviews," Dr Thom said.
"Inspection activities seek to provide assurance that agencies comply with the relevant legislative and policy frameworks and to identify issues before there is a need for major remedial action."
New IGIS recruits would be joining an organisation responsible for reviewing the activities of ASIO, ASIS, the Australian Signals Directorate, the Australian Geospatial-Intelligence Organisation, and the Office of National Assessments.
In additional to assisting investigations, recruits would also manage complaints regarding intelligence agencies from members of the public and current of former intelligence and security agency employees.
Recent IGIS activities include an inquiry into the attendance of legal representatives at "ASIO interviews", an inquiry into the use of weapons and self-defence techniques in ASIS, and an inquiry into the analytic independence.
In a submission to the Parliamentary Joint Committee on Intelligence and Security in August, Dr Thom said the proposed amendments were significant and "would increase the scope and complexity of oversight arrangements and the workload of the OIGIS".
Dr Thom told the inquiry any changes that would allow ASIO employees and ASIO affiliates to use surveillance devices without a warrant in a range of circumstances would require additional oversight from the IGIS.
"There are no reporting requirements associated with such surveillance meaning oversight will be particularly important," she said.
Dr Thom told the inquiry an expansion of computer access warrants to cover systems and networks of computers and to allow the disruption of computers would require "specific expertise in the technical aspects of computer operations".
The Inspector-General's office in Barton currently has 12 staff with most already involved in investigation and review procedures.
The current recruitment drive, which closes on October 24, seeks to hire up to five new staff on an ongoing or non-going basis with payment ranging from $70,000 to $133,967.
Dr Thom said the office's inspection activity could include reviewing documents and electronic records of agencies, conducting analysis, asking questions and preparing correspondence and reports.
"Staff also investigate complaints by members of the public and intelligence agency staff," she said.
"These include complaints from visa applicants about the immigration security assessment process and complaints from ASIS and ASIO staff about employment matters."
Dr Thom said her office had powers akin to those of a royal commission once investigations were launched and inquiry teams were generally formed from staff within the office.
Henry Belot is a reporter at The Canberra Times.