Installers rush on tighter solar deadline
ActewAGL has revealed tighter guidelines for customers trying to lock into solar power before its lucrative buyback scheme finishes on June 30 as installers experience a ''boom before the bust''.
The power provider has published the proviso that new solar systems must be installed and ready to go by September 30 for customers to be eligible for the existing buyback or gross metering scheme that pays about 18¢ per kilowatt hour .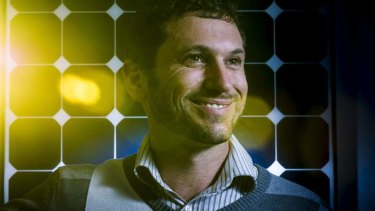 Anyone who fails to meet the deadline will be subject to the net metering scheme that takes effect from July 1 andpays customers the lower rate of 7.5¢ per kilowatt for excess energy produced.
ActewAGL initially did not mention on its website the September 30 deadline for installation when it outlined how customers could lock into the existing buyback scheme, saying only that customers have to have a special connection request form submitted by June 30.
The information about the additional deadline was added to the website this week.
ActewAGL general manager of retail Ayesha Razzaq said the 90-day installation time limit was outlined on the special connection request form. ''We updated the [frequently asked questions on the website] to reflect this information,'' she said.
The number of applications to join the existing buyback scheme has almost doubled in less than a week since news of net metering emerged, up from 93 to 181, as of Wednesday afternoon.
Solar system providers say they are being rushed off their feet as customers try to access the existing buyback scheme, which will continue to run for those signed up in time until June 30, 2020.
Solargain national sales manager Peter Novak said it was receiving 30 to 40 email inquiries a day and 50 to 60 phone calls from potential customers. ''There is a mad rush. It's been frantic,'' he said.
Mr Novak said the pressure was also on providers to ensure they could install the systems by the September 30 deadline.
''If suppliers are not monitoring their own install capacity and just taking on as much work as they can and not worrying about how they're going to go about it then, yes, there will be issues,'' he said.
SolarHub director Ben Masters said the ''phone has run hot'' since it was revealed last week that ActewAGL would introduce net metering. His business was making 15 sales a day and by mid-next week will probably have to consider some kind of cut-off point for further sales.
Mr Masters said it was frustrating the September 30 deadline for installation had not been made clear from the start.
''I do understand ActewAGL has to set some kind of time limit on these things,'' he said. ''It's just that it would have been nice to get that all in one go so we could have gone to our customers with one message rather than multiple messages.''
Mr Masters said there would be three months of frantic work until September 30, likely followed by an ''extremely quiet'' period.
''It certainly hurts. We'll be all right. We plan for these events but it's definitely a boom-bust and I'm hoping this is the last of it,'' he said.
Armada Solar director Justin Ryan said he had diversified his business to ride out the downturns in the industry as it also coped with the current boom. ''There will be a stampede and then we'll go into a bust,'' he said.''We don't know what will happen to the industry.''