International Women's Day: Canberra's own stories
International Women's Day is more than a day to celebrate the achievements of successful women. It's a day to recognise that the contributions of women from all walks of life, whether they be home makers or politicians, are crucial as we strive for gender parity.
The theme for IWD 2018 is #pressforprogress and each story we tell is a step forward in achieving that goal.
Over the past year The Canberra Times has told many stories about the women of Canberra, or women with a connection to this town in some small way, the celebration of women should not be contained to one day.
The public
Connie Johnson's courageous battle with cancer touched our hearts. More than $2 million was raised for cancer research via the Love Your Sister campaign. In May more than $300,000 in coins were placed in a heart on a Lyneham netball court. Megan Doherty's coverage of Johnson's last few months was heartbreaking and uplifting at the same time.
"During a quiet moment, Connie hinted at the utter unfairness that her life might soon be over. Not even touching on the big stuff. Just incredulous that that stack of books by her bedside would never be read. That all the things on her to-do list would never be ticked off."
Rosie Batty came to Canberra for a portrait unveiling at the National Portrait Gallery just a month before she stepped down from her foundation exhausted by the prospect of what still needs to done in the stand against domestic violence. She cried that morning, the sorrow she could see in the photograph palpable to her, for the rest of us we saw her strength.
"When people perceive me through the media they see that calm, strong, composed advocate … I'm not like that all the time," she said.
"People who are around me, friends, family, work colleagues, they see all sides of me. The vulnerable, the emotional, the distraught, the angry, and I never profess to be any different."
The personal
Jessica Hodak shares a body with Celia, Brendan and Bolto, among others. She told her complex story to Bree Winchester ahead of World Mental Health Day. Diagnosed with Dissociative Identity Disorder, Hodak, 24, opening up about her struggle with mental health and how she copes dealing with it all.
"Some people may judge, but there are other people who respect it so much because they're going through the same thing and all they want is to see someone doing what they love and continuing to do it regardless of what they've been given."
"I'm f---ing complex. My photo should be on the dictionary of that word."
Canberra author Jessica Friedmann chronicled her journey through post-partum depression in a collection of essays, Things that Helped, stories that touch on motherhood, creativity, and mental illness, on love and art and friendship.
"There are an estimated 100,000 Australian women going through something similar and not receiving any media attention around their circumstances at all.
"It makes me so cross so many women are going through this with no support. It should be easy, you should be able to go to the hospital and say I need help and they should be adequately equipped to help.
"Can you imagine being turned away from chemotherapy because a hospital doesn't have enough beds? It wouldn't happen.
Sport
Hannah Mouncey admits she might have been "a bit naive", but she could never have imagined the storm she was walking into in 2017.
The transgender footballer made headlines when her bid to enter the AFLW was controversially knocked back. Caden Helmers got Mouncey to open up on many more things than sport when he spoke to her in January, about mental health and homelessness.
"To be honest, the whole last 18 months, I couldn't have expected anything that happened," Mouncey said.
"The draft I definitely didn't expect because I never set out to do it. It was an opportunity that came along midway through the year and I think you'd be pretty silly not to explore it.
"The timing of it, the whole way it played out just meant it became this massive thing that no one really had any control over."
Helmers also told a story that was about more than sport when he talked to Canberra Capital's Nat Hurst not long after same-sex marriage was legalised. Hurst and her wife Tara welcomed baby Nash in June 2017.
"We always saw ourselves as a family no matter what," Hurst said.
"The love that we have overrides everything and you can see it with how happy he is. To see him smile and see how happy he is, whether he grows up with a mum and dad or two mums, it doesn't matter as long as he is happy."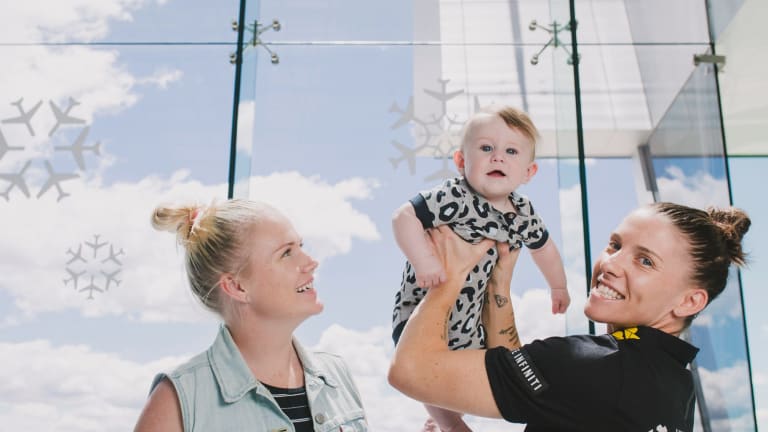 Other women who caught our attention during the year included Dianne Firth who was recognised in the Queen's Birthday honours for her work on Canberra's landscapes; Telstra Young Business Woman of the Year Elise Apolloni, the singing pharmacist; 25-year-old Rachael Stevens who became an advocate for mental health after her own suicide attempt; Veronica Croome, who retired after nine years of being the ACT's Chief Nurse; and Heather Garriock, who coached Canberra United in the W League while she was pregnant.
Karen Hardy is a reporter at The Canberra Times.
Morning & Afternoon Newsletter
Delivered Mon–Fri.