Introducing the ACT's first female Supreme Court Chief Justice
A NSW District Court judge has been announced as the new Chief Justice to the ACT Supreme Court.
Helen Murrell, SC, will replace outgoing Chief Justice Terence Higgins as the territory's top judicial officer after he retires on Friday.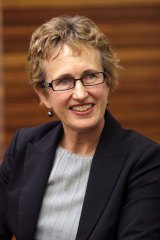 She will take up her position on October 28.
Judge Murrell, who has more than 30 years experience in law, will become the ACT's first female Supreme Court Chief Justice.
She was first enrolled as a solicitor in 1977, working in the then Commonwealth Crown Solicitor's Office and the NSW Legal Aid Commission.
She was called to the NSW Bar in 1981, appointed silk in 1995, and has practiced across criminal law, administrative law, environmental law, common law and equity.
Judge Murrell was appointed a NSW District Court Judge in 1996.
She is currently a member of the Council of the National Judicial College of Australia.
She is former president of the NSW Equal Opportunity Tribunal and set up the first NSW Drug Court in 1998.
ACT Attorney-General Simon Corbell said Judge Murrell would apply her 17 years experience in both criminal and civil matters to provide strong leadership to the ACT Supreme Court as Chief Justice.
Mr Corbell said the government had undertaken an extensive appointment process included seeking nominations from key stakeholders and a public notice seeking expressions of interest and nominations to attract a wide range of strong candidates for the position.
"I congratulate Her Honour Judge Helen Gay Murrell SC on her appointment and I am confident that she will serve the Canberra community well," Mr Corbell said.
"As Attorney-General and first law officer of the ACT, I look forward to working with our new Chief Justice to ensure that the judiciary and the executive continue to collaborate to deliver access to justice to the ACT community."
Mr Corbell saluted outgoing Chief Justice Higgins who had served in the position since 2003 and as a judge of the ACT Supreme Court since 1990.
"On behalf of the Government, I take this opportunity to thank the retiring Chief Justice for his dedicated and sustained service to the law and the ACT community over the past twenty-three years. I wish him well in his retirement," Mr Corbell said.