Janet Dawson: Paintings and drawings review is a rich harvest
Janet Dawson: Paintings and drawings. Nancy Sever Gallery, 4/6 Kennedy Street, Kingston. Until August 30.
This is a very large exhibition of the work of Janet Dawson with pieces dating from 1979 through to the present.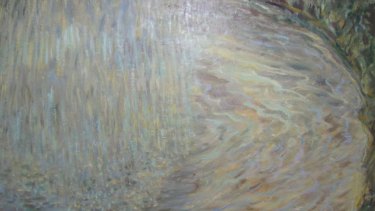 There are about 40 paintings, drawings and framed sketches, plus about another 40 unframed sketches attractively displayed on a couple of flat tables under glass. Unlike the carefully assembled touring survey show organised by the Bathurst Regional Art Gallery and curated by Christine France which Canberra saw in 2007 at the ANU Drill Hall Gallery, this one is more like a stock show, albeit one where the overall quality is high. Janet Dawson is a senior artist with a great pedigree, who, at her best, is a very fine artist indeed.
The broad scope of this exhibition and the informality of presentation should not be mistaken for a random emptying of studio drawers and in many instances she is happy to invite the viewer to witness her creative process. When examining the finished pastel drawings for the Playing on the lawn series or the watercolour drawing Jilly's burger bar, both from the mid-1980s, it is interesting at the same time to view the large series of informal studies which lay behind the more accomplished and resolved pieces. In many ways she is a very traditional artist, who was academically trained at Melbourne's National Gallery School.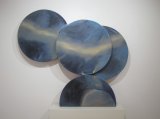 Janet Dawson was born in Sydney in 1935 and spent part of her early childhood in Forbes, but by the age of six the family had moved to Melbourne. At 16 she was enrolled at the National Gallery School, under the conservative tonal realist Sir William Dargie. Dawson's Melbourne credentials were brilliant. She topped the Gallery School and was awarded its travelling scholarship that took her to the Slade in London, where she seriously turned to printmaking under Ceri Richards and later Stanley Jones.
Dawson left Australia as a finely trained tonal realist, one who had been through the academic system, which included drawing with charcoal from plaster casts, life drawing, painting portraits and making beautifully crafted oil paintings. She returned to Australia in 1960 as a finely trained lithographer and as an artist committed to abstraction. In 1968 she participated in The Field exhibition in Melbourne, but five years later, she was awarded the Archibald Prize for portraiture, a highly figurative, sensitive and expressive portrait of her husband, Michael Boddy. This move from the figurative to the non-figurative and then back to the figurative runs throughout her oeuvre and throughout this exhibition.
In 1974 she moved to Binalong in New South Wales and three years later to the more remote Balgalal Creek location, a small farming property which she called Scribble Rock. Here she has stayed for over 35 years until, with the death of her husband in 2014, she moved to a small cottage in Binalong itself. These changes in her life have found reflection in her art not only in what she depicted, but also in how she depicted what she saw. Throughout this selection of work there are these subtle shifts in her field of vision.
For me, the show is dominated by two significant paintings, the large oil painting, Sunshower on the dam (2013) and the curious constructed oil painting, Roundabout for Eddie (2012). The first is a very lively impressionistic work with a debt to the French colourists, especially Claude Monet, where there is a dancing freedom in the strokes of colour and the surface is shot through with energetic swirls of paint. It is like an Australian response to the lily ponds of Giverny. In the second cosmic rings and eclipsing spheres swirl in space as dynamic forms with a playful whimsy and just a touch of pathos.
This exhibition of Janet Dawson's work coincides with another which has recently opened at Stella Downer's gallery in Sydney, both of which represent selections from a rich harvest of an exceptional artist who has reached her 80th anniversary.