Jenni Kemarre Martiniello reinvents the ancient Indigenous tradition of weaving, but with glass
When Jenni Kemarre Martiniello was a child growing up in Adelaide, she remembers seeing woven objects in the local museum and wondering why they seemed so lifeless.
The daughter of an aboriginal man, she had grown up with a strong connection to country, and had often watched women weaving bags and fish traps – a practice that was as rich and alive as possible.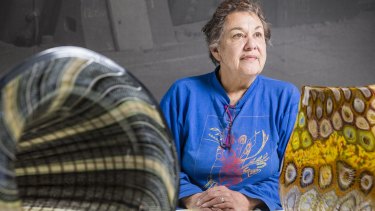 "It's the oldest existing weaving practice in the world, and they're just so stunning, and yet they were kind of in museums as if they were dead," she says.
"That used to make me really angry when I was a kid."
Today, she has well and truly put paid to that childhood anger, which is now channelled into creating objects of great complexity and breathtaking beauty – traditional fish traps and bags woven, not from reeds or natural fibres, but from glass.
"There are lots of glass traditions around the world, and lots of things that come close to woven-looking things, but I don't know that anyone has set out to reproduce indigenous weaving in glass before," she says.
"There are so many weaves, so many different types of fibres and materials, and they all have different colours according to their lifespan, so the objects change over time. It's all fabulous and fascinating."
As she speaks, we're surrounded by the cacophony of the cavernous workshop of the Canberra Glassworks – Martiniello's home away from home these days. She's putting the finishing touches on what will be her first solo exhibition at the glassworks, Reinventing the Weave – a homage both to her indigenous heritage and the long-standing European glass traditions that have enabled her to realise her vision.
Seeing some of these pieces up close – observing how the light plays off the exquisite textures and colours – it's hard to imagine that Martiniello has worked with glass for less than a decade. As she would have it, she and another indigenous artist, Lyndy Delian, liked the look of the Canberra Glassworks when it first opened, applied for a grant to do a series of beginners' workshops in 2008, and have been hooked ever since.
But Martiniello has always been an artist, and completed a degree at what was then the Canberra School of Art (now the ANU School of Art) in the 1980s. And even that came relatively late: although as a high school student she took night classes at the Adelaide School of Art, it wasn't until she had done two years in the navy, married, had four children and seen them all safely into primary school that she decided to go back to art.
It was her father, in fact, who suggested it.
"I think when they [the kids] are really, really, small, there's so much that they need, they need you all the time," she says.
"Someone said to me, ages ago, 'That's great, but what are you going to have for you when the children have grown up and left school and left home?' That was a long way away, but it was a really good question, and one of the things my dad said to me was, 'Well, don't you think it's time you got back into your arts practice?'"
It's not surprising to hear that Martiniello grew up as something of a free spirit. Her father was a half-Chinese, half-Aboriginal, and her mother the daughter of English migrants.
"They were both independent thinkers – they had parents and grandparents who very firmly believed that the way to grow a child was to let your own spirit grow you," she says.
Her parents met working at John Martin's department store in Adelaide, he as a storeman and packer, she in the crystal and china department. Getting married was, says Martiniello now, a brave move.
"I mean, it just wasn't something that you did," she says.
"I think my mum was brought up to be an independent thinker, and her father's creed was that you never judge a person by the colour of their skin, the creed they believe in or the clothes they wear, so everybody was equal. So he didn't have a problem when my mum brought my dad home, and said, 'This is the boy I want to marry'."
Her mother's mother may have been less happy, but she was remarkable in her own way – bringing up a family under the Victorian constraints of her era, but still the first woman in Adelaide to buy a camera and set up her own darkroom.
And the family was artistic in general; Martiniello's mother was an accomplished pianist and mezzo soprano with her own radio show at 16.
Her father, meanwhile, moved south from central Australia and changed his surname from Chong to Longmore in the 1930s, when he found he couldn't get a job in Adelaide with a dark complexion and Chinese name.
But although she grew up much closer to her mother's side of the family, Martiniello still had plenty of contact with her northern indigenous relatives.
"We had lots of contact with my dad's family, so I think I grew up with the best of both worlds – very connected to country," she says.
"I regret not growing up with language, but that's what happens if you grow up in the city. You can lose a lot in one generation, because my dad grew up with his mum's first three languages, the desert languages, and English was about his fourth or fifth language."
Although she was an only child, she had countless cousins up north, many of whom came to stay, and regular family reunions.
When she finished school, she recalls having three career choices, all equally viable: joining the navy, going to art school or training as a teacher. As it turned out, she has ended up doing all three, in some form or another, but as an 18-year-old school leaver, the navy won out.
"I came from a family where growing up in the 50s and 60s, there was still a lot of the influence from two world wars. There were parents and grandparents and uncles and sometimes aunts who'd all served in the armed forces, so people actually thinking and talking about those things was a viable choice for a career," she says.
It was, she recalls, an exciting time. She was one of the few woman in the forces who qualified as a radar plotter, and did further training as a weapons assessor, a role that had her criss-crossing the country.
"I didn't get to unpack the bags very much, so that was quite exciting. I had nine postings in two years," she says.
But by the time she had met her future husband – an Italian migrant – she had already decided the military wasn't for her.
"I think in the armed forces, it's quite difficult to be an independent thinker, because they need people to toe the line and obey orders, obviously, and do those things," she says.
"And certainly in that era, I thought there was a lot of psychological manipulation that went on, that I thought was wrong and didn't like, so there was that element that I didn't approve of. I don't know that that's actually changed much. I suspect it hasn't."
She settled in Canberra with her husband in the late 1960s, and the marriage lasted 10 years. By the time she decided to go to art school, it was a good time to be a studying mother.
"That was in the days when it was recognised that it costs to raise children, but it also costs to get an education, and you were encouraged to do both because it was at a time when women were being encouraged to go back to university and get degrees and get better jobs and do all of that," she says.
Still, there was always the prevailing attitude that a woman couldn't have a fulfilling career and children at the same time – she usually had to choose.
"There's been this attitude that you can't have both. And the thing is, of course, well why the hell can't you have both?" she says.
"I actually think it really benefited my children, knowing that they had a mother who was out there being creative and studying and it set them a really great example."
Interestingly, at the time, her indigenous heritage did not crop up much in her art.
"I didn't take it into art school in sculpture, probably in particular because I felt more that heritage was more to do with two dimensions rather than three dimensions," she says.
"When I was doing the sculpture, it was very much a conceptual exploration of all sorts of things, so I was welding steel most of the time, doing very abstract welded steel pieces."
She did sculpture as her major, and dabbled in drawing, printmaking, painting, silver and goldsmithing, and photography – everything, in fact, except glass, although it was during her second year that the German glass master Klaus Moje arrived in town to set up the ANU's Glass Workshop.
Martiniello finished her degree, and took what she describes as a "detour into academia", first with double honours at the ANU in philosophy and art history, and then teaching at the University of Canberra, in professional and community education.
She continued with her sculpture and drawing, and also taught indigenous art history part-time at the Yurauna Centre at CIT, a job that inspired her to branch out as an artist.
"My students were doing wonderful screenprinting and lovely things, and I decided that I would go and do some of that as well, so I did," she says. She became a member at Megalo​ print studio, and, in 2006, opened Kemarre Arts, the ACT's first independent aboriginal-run social enterprise.
"I discovered along the way there are all these amazing artists here, and no solidarity and sense of someone to support them or whatever," she says.
"It really needed someone to come along and help them market themselves, give them skills … teach them how to fill in grant applications."
Eventually, though, it was time to focus wholeheartedly on her own artistic career. She had spent two years from 2003 caring for her mother in her final years, and had a short stint on the Australia Council as a temporary executive director for the Aboriginal and Torres Strait Islander division.
"I went and filled the gap for about eight months and commuted. And when I finished that it was time to say OK, what do I really need to do for me? And it was follow the arts and the career."
It was as a member of the ACT Indigenous Textile and Glass Artists Group – founded by Lyndy Delian​ in 2003 – that the idea of working with glass cropped up. Since she and Delian applied for their first grant in 2008, the ACT government has continued to fund their work, encouraging them to bring other emerging indigenous artists through the beginners' workshops. Together, they have introduced around 20 artists to the medium, but she and Delian are the most devoted.
And her own practice is a constant, thrilling challenge, requiring a large and dedicated team to work with her – known affectionately in the workshop as the A-Team.
"There's a lot of planning, there's a lot of experimenting with colours, trying to convert the kinds of colours that we have, which are mostly derived in glass from a European palette, and how to end up with more like a bush palette. And that experimentation is still continuing," she says.
And audiences are reacting favourably; after a recent solo show at Sabbia Gallery in Sydney, through which she sold works and received several commissions, she realised for the first time that there was a demand for her work and her message.
"I think culturally, it's unique, but also I think in one way I'm deliberately using glass as a transmission, as a cultural vehicle, if you like, of re-establishing a focal point on traditional aboriginal practices," she says.
"It's two ancient traditions, it's kind of quirky. You can use the Italian glass cane techniques that are hundreds of years old and give an extended expression to a weaving practice that's tens of thousands of years old. So it's an interesting thing to have the two come together like that."
And ultimately, there are no limits on where she can take her work.
"It doesn't stop – there's always generating new things, more questions, more challenges, so you keep going," she says.
"The show is about reinventing the weave … It is really about refocusing attention on weaving as Aboriginal weaving but it's also about how we can take more contemporary techniques and they can themselves become cultural vehicles for traditional expression as well. At the same time, those works, as artworks, have transcended that."
Jenni Kemarre Martiniello: Reinventing the Weave opens at the Canberra Glassworks on April 25 and runs until June 7.
Sally Pryor is a reporter at The Canberra Times.