Josaia Vosikata sentenced to 22 years jail for murder of Canberra's Daniela D'Addario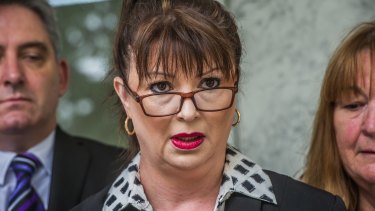 He violated her corpse before he bound her hands and feet, wrapped her body in a doona, put it in the boot of her car and drove to the NSW south coast.
Vosikata was on Friday morning to a maximum of 22 years and 10 months imprisonment for killing Ms D'Addario, 35, whose body was found in the car near Bermagui after a massive manhunt last April.
He nodded but did not otherwise react when ACT Supreme Court Justice John Burns told a public gallery, packed with Ms D'Addario's emotional family and friends, Vosikata would spend at least 18 years and four months behind bars.
Outside court, Ms D'Addario's sister Fiona Knight said no sentence the court handed down would bring back her sister.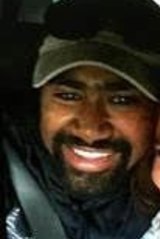 Ms Knight said Vosikata was, in her eyes, "nothing short of an evil monster" who took the life of a warm, intelligent and caring woman for no reason other than jealousy.
"I will never be able to forgive this man for the despicable and shameful acts he has committed, no matter how remorseful he claims to be.
"I have sat through all the court proceedings and listened to the evidence of how he filmed himself obtaining sexual gratification by indecently interfering with her lifeless body shortly after he murdered her; this is something no sister should have to endure."
Ms Knight said she mourned her sister's loss day and night and cherished recollections of shared laughter and time spent with her.
"Mr Vosikata will never steal those memories from me," she said.
Justice Burns said Vosikata became increasingly fixated with Ms D'Addario, forming the belief she was pregnant, after she ended their two-month relationship last March and had sent her dozens of text messages in the lead up to the killing.
"You could not accept the relationship was over and began to obsess over her," he said.
Ms D'Addario repeatedly asked Vosikata to stop harassing her, but the messages continued.
Nine days before the murder, he went to her apartment and tried to molest her in her sleep.
In the days that followed, Vosikata searched the internet for information about chemicals to knock people out and how to kill.
He also looked online for "videos of girls being raped", "hidden cameras for sale", "remote cottages" and tips on how to open locked doors.
Vosikata went to his former girlfriend's apartment on the morning of April 19 and tried to render her unconscious before he wrapped his hands around her neck and killed her.
An autopsy later revealed bruises and lacerations to Ms D'Addario's face, neck and shins.
After the murder, Vosikata went home, had lunch with his mother and watched TV, before returning to the apartment in the early hours of April 20.
He cleaned the home and put Ms D'Addario's body in the boot before he drove away. He was arrested on the south coast on April 23 after the pair was reported missing.
Vosikata admitted to police soon after his arrest he had killed Ms D'Addario. He pleaded guilty to murder in March.
Prosecutors urged a life sentence for the killing and Vosikata's "premeditated conduct of revenge".
Defence lawyer Paul Edmonds argued his client wasn't beyond reform and the murder was not in the worst category.
Justice Burns said he was satisfied the offence was premeditated as Vosikata's internet searches indicated he had contemplated killing Ms D'Addario in the days before.
But he was not convinced Vosikata had intended to murder Ms D'Addario when he went to the apartment that day.
The offender's actions after the fatal attack spoke of panic, but displayed a lack of planning, the court was told.
Vosikata's violation of Ms D'Addario's body did not appear to be driven by sexual perversion and instead stemmed from a desire to exert control over her, Justice Burns said.
"You were angry because she rejected you," he said.
He noted there was no evidence Vosikata had a mental illness or a prior criminal record, but said he hadn't been completely honest about what happened.
Justice Burns found the killing to be towards the top of the range for murder, but just outside the worst category of the offence. ​
Vosikata will be eligible for parole in August 2033.
Megan Gorrey is the Urban Affairs reporter at the Sydney Morning Herald.