Joy as members prepare to debate marriage laws
It will be a ''proud moment'' on Thursday to watch the ACT move towards same-sex marriage, say the territory's marriage equality advocates.
The ACT government will introduce its same-sex marriage legislation on Thursday morning and says it will be a ''significant day'' that could see the territory become the first Australian jurisdiction to legalise same-sex marriage.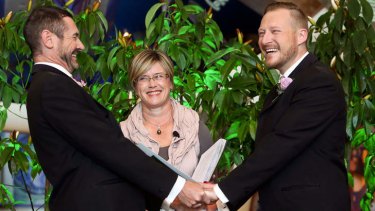 The laws are expected to be debated and passed with the support of government and Greens MLAs in October.
Ivan Hinton is one Canberran who will be at the Assembly for the introduction of the bill. Mr Hinton, who is the deputy national director of Marriage Equality Australia, married his partner Chris Teoh in Canada nearly five years ago.
''To see them move to actually achieve marriage equality in the territory is a proud moment for me,'' Mr Hinton said. ''It's something that we've expected for quite a while.''
Mr Hinton said the territory was moving swiftly on the issue now that New Zealand had enacted its marriage equality laws. ''I anticipate that towards the end of this year when we actually see this bill passed we are going to get a large number of Canberrans celebrating their relationships with family and friends for the first time on Australian soil.''
Attorney-General Simon Corbell said on Wednesday ''the bill would crystallise the entitlement of same-sex couples, and send a clear message that we all deserve to be treated with dignity and respect, regardless of our sexual orientation''.
The government has vowed to fight any court or federal challenge to the laws. The Australian Christian Lobby has already warned it will call on the new Abbott government to overturn the laws, which would require a vote in both houses of the Federal Parliament.
A group of lawyers opposed to same-sex marriage has also warned that the ACT marriage bill is likely to be inconsistent with the federal Marriage Act. Adelaide barrister Christopher Brohier, of Lawyers for the Preservation of the Definition of Marriage, said it was likely that the ACT bill would be ineffective.
But the government believes its legislation can operate concurrently with the federal Marriage Act.