Judges blown away by glasswork
A Canberra artist whose delicate, woven-glass eel traps have captivated art-lovers for the past five years has taken out a prestigious $90,000 fellowship at the National Indigenous Art Awards.
Jenni Kemarre Martiniello will spend the next two years perfecting her experiments with hot blown glass and travelling to America to learn more about her craft.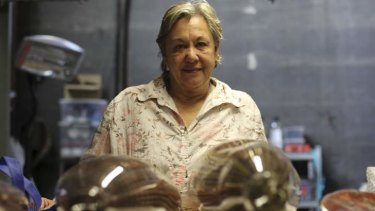 Kemarre Martiniello, who is of Arrernte, Chinese and Anglo-Celtic descent, and lives and works in Canberra, received the award at a ceremony at the Sydney Opera House on Monday night.
"It's very significant, it allows me to do a two-year project continuing the experimentations that I'm doing with the eel traps and the fish traps and the dilly bags and things in hot blown glass, but also to do some research in some communities," she said.
One of only a handful of indigenous artists working with glass, she said she became hooked on the medium after doing a beginners workshop in 2008.
As an artist, though, she's hardly a beginner, with a background in sculpture, printmaking, textiles and photography, as well as being a multi-award-winning writer.
Her works are held by the National Gallery of Australia, National Museum of Australia, the Art Gallery of WA, the Canberra Museum and Gallery and the ACT Legislative Assembly.
She works from a studio at the Canberra Glassworks, where she has built up a team of artists to help her realise her vision. "Glass-blowing is something that you can't really do on your own,'' she said. ''You need two or three other people because you haven't got enough hands.''
For example, the work that was a finalist in last year's Waterhouse Natural History Art Prize, Rushes Eel Trap, took a team of seven to achieve.
"The process is a long process, and there's lots of research and things going into that, lots of experimentation with colour, with making chains, how they get combined in layers and things like that," she said.
Kemarre Martiniello will be using the fellowship to create a body of between 70 and 90 pieces of work based on traditional Aboriginal woven objects.
"There's been some larger experimentation with recreating the loop weaves in dilly bags, which I want to do more of, and I just … started working with trying to recreate traditional fish scoops in hot glass, which is actually quite difficult, so there's a whole range of objects that I haven't really tackled yet," she said.
"There aren't many of us who are glass artists, less than a handful, really, and I'm the only one really working on recreating those woven objects, and trying to weave glass, which of course doesn't behave anything like bullrushes and grass and things like that.''